Winnipeg Free Press - ONLINE EDITION
Muamba up for CFL's Most Outstanding Canadian Player
Tweet
Post
Reddit
ShareThis
Email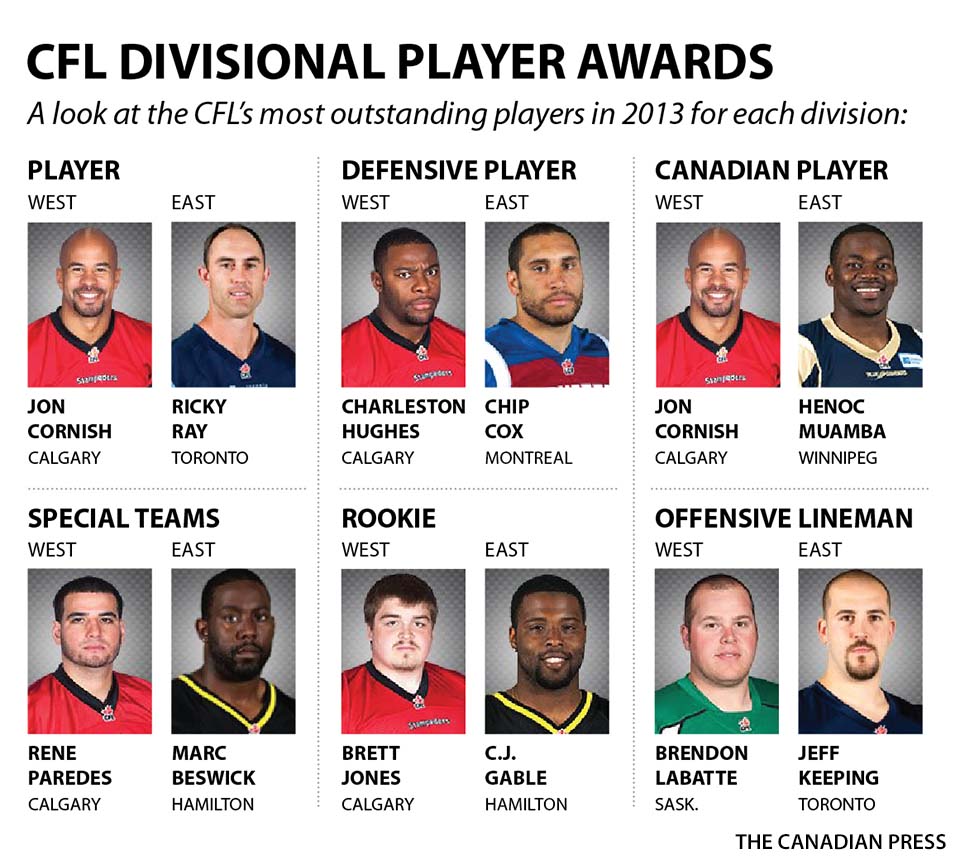 Henoc Muamba's price tag just went up another couple of digits.
The gifted Winnipeg Blue Bombers linebacker – a key cog in the club's attempted rebuild but scheduled to become a free agent this February – was named today as the East Division's Most Outstanding Canadian Player after voting was conducted by members of the Football Reporters of Canada and CFL head coaches.
Muamba will be up against Calgary Stampeders' running back Jon Cornish, who set records for most rushing yards by a Canadian and most yards from scrimmage by a Canadian for the league-wide honours.
Cornish is also the West Division nominee for Most Outstanding Player and could become the first Canadian player to be named CFL MOP since Tony Gabriel in 1978. Only three Canadian players have been named the CFL Most Outstanding Player – Gabriel (1978) and Russ Jackson (1969, 1966, 1963).
Muamba, who was the Bombers' nominee for Most Outstanding, Canadian and defensive player, was also one of four Bombers named to the East Division All-Star Team this week, along with offensive lineman Glenn January, defensive tackle Bryant Turner and running back Will Ford.
This year's divisional finalists are:
Most Outstanding Player:
Jon Cornish (CGY) | Ricky Ray (TOR)
Most Outstanding Defensive Player:
Charleston Hughes (CGY) | Chip Cox (MTL)
Most Outstanding Canadian:
Jon Cornish (CGY) | Henoc Muamba (WPG)
Most Outstanding Special Teams Player:
Rene Paredes (CGY) | Marc Beswick (HAM)
Most Outstanding Rookie:
Brett Jones (CGY) | CJ Gable (HAM)
Most Outstanding Offensive Lineman:
Brendon LaBatte (SSK) | Jeff Keeping (TOR)
Twitter@WFPEdTait
History
Updated on Thursday, November 7, 2013 at 1:22 PM CST: Adds graphic
Fact Check
Have you found an error, or know of something we've missed in one of our stories?
Please use the form below and let us know.
Having problems with the form?
Contact Us Directly
Tweet
Post
Reddit
ShareThis
Email
Dock
More Latest News
(1 of 23 articles for today)
1:55 PM