The Canadian Press - ONLINE EDITION
Level roadway-train crossings have deadly history in Canada
OTTAWA - A collision between a Via Rail train and a city bus killed at least six people in Ottawa on Wednesday. A look at other level crossing accidents in Canada over the years:
— The Transportation Safety Board says there were 25 fatal crossing accidents in 2012, similar to the 24 recorded in 2011 and up from the five-year average of 21. Most typically involve pedestrians.
— One of the worst bus-train crashes ever occurred in Dorion, Que., in October 1966, when 19 teenagers on their way to a dance were killed when their bus was sliced in two by a freight train at a level crossing.
— In November 1960, 17 teenage students were killed when their school bus was a struck by a train at a crossing near Lamont, Alta.
— In May 2010, three people were killed when a Via Rail train hit the truck in which they were driving at a level crossing in northwestern Alberta.
— In September 2000, three people were killed when a Via Rail train hit a vehicle near Limehouse, Ont.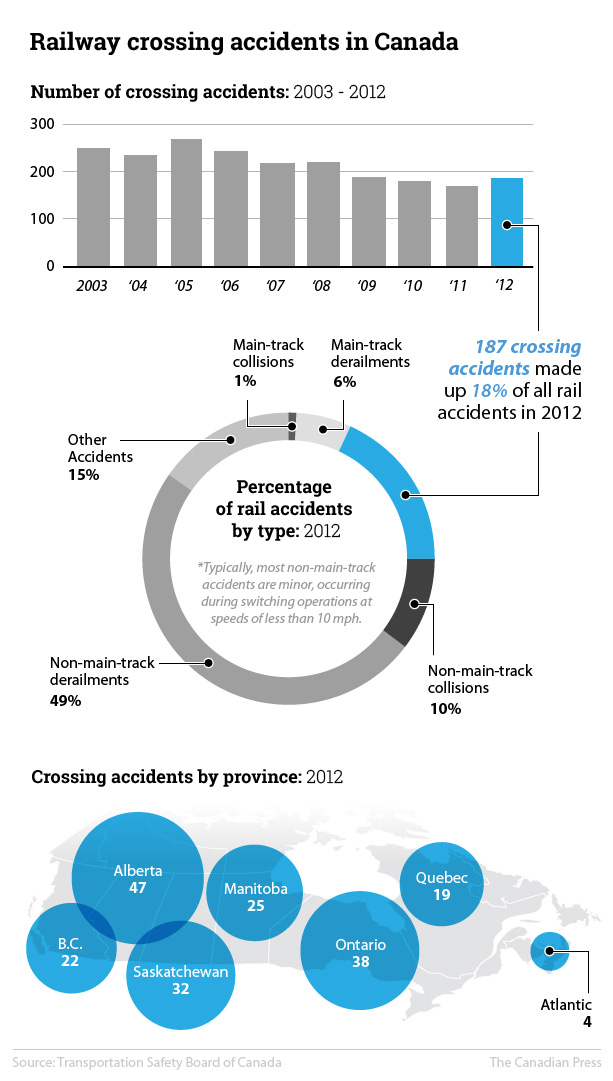 Dock
More Canada
(1 of 8 articles for today)
4:02 PM
0
LAC-MEGANTIC, Que. - Residents in Lac-Megantic gathered on Sunday to pay tribute to those who were first to arrive on ...