The Canadian Press - ONLINE EDITION
Level roadway-train crossings have deadly history in Canada
OTTAWA - A collision between a Via Rail train and a city bus killed at least six people in Ottawa on Wednesday. A look at other level crossing accidents in Canada over the years:
— The Transportation Safety Board says there were 25 fatal crossing accidents in 2012, similar to the 24 recorded in 2011 and up from the five-year average of 21. Most typically involve pedestrians.
— One of the worst bus-train crashes ever occurred in Dorion, Que., in October 1966, when 19 teenagers on their way to a dance were killed when their bus was sliced in two by a freight train at a level crossing.
— In November 1960, 17 teenage students were killed when their school bus was a struck by a train at a crossing near Lamont, Alta.
— In May 2010, three people were killed when a Via Rail train hit the truck in which they were driving at a level crossing in northwestern Alberta.
— In September 2000, three people were killed when a Via Rail train hit a vehicle near Limehouse, Ont.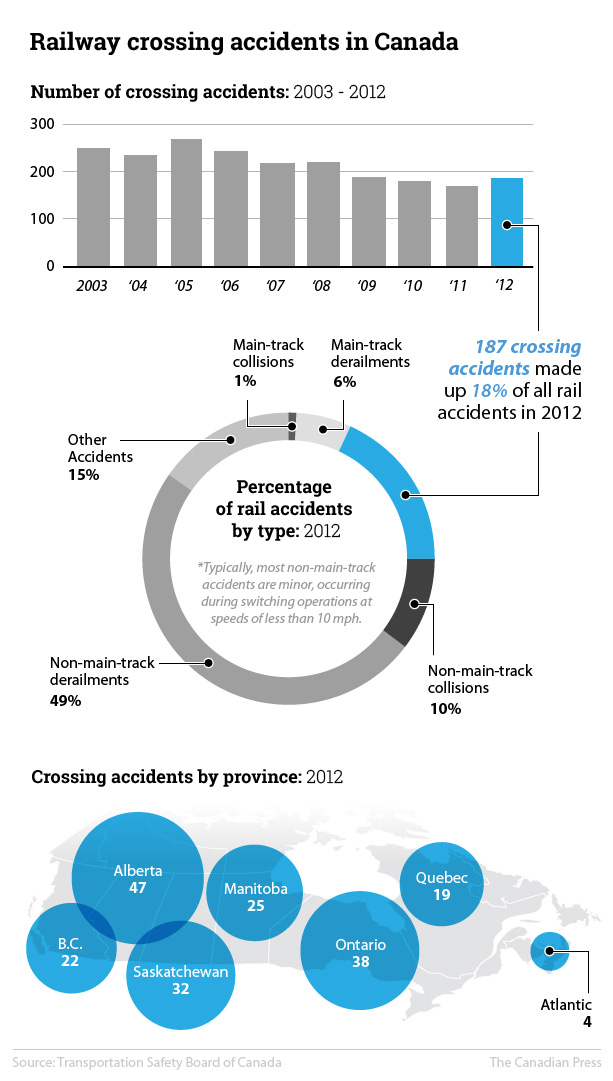 Fact Check
Have you found an error, or know of something we've missed in one of our stories? Please use the form below and let us know.
Dock
More Canada
(1 of 50 articles for this week)
12/5/2013 9:56 PM
0
BATTLEFORD, Sask. - One of Paul Leroux's sex abuse victims says he won't ever forgive the former residential school supervisor.
The ...