live feed

@wearefrankca
Do it skinny! We've launched a new lean production company! Check it out - skinnyfilms.ca
Blog
Wed, Feb 12, 2014
Have you met Morgan Gunnarsson - WindCity's RBC Royal Bank's employee extraordinaire? Morgan is a true financial advisor who impressed us with RBC's diverse capabilities.
We first meet Morgan in episode 1 as she was striving to provide Dylan and Kate financial advice about their business at one of RBC's retail stores. In this scene, we find Dylan interacting with RBC's touch screen technology as they explore their options in one of RBC's open concept stores.
In episode 2, Morgan meets Dylan at a local restaurant to discuss business financing options. This non-traditional setting for a client meeting reflects RBC's mobile sales force capabilities. Because convenience and time are important to their clients, financial advisors will meet customers anytime, anywhere.
RBC employees go above and beyond for their clients and they do the same for their communities. The next time we see Morgan is when Dylan seeks her out at the United Way Plane Pull event. Looking like a superhero in her blue cape, Morgan is able to advise Dylan on his next steps, share a little about RBC's involvement in the community from the Pride Parade to the RBC Blue Water Project, all while leading her team of RBC volunteers as they pull a large airplane across the finish line!
Finally, as Morgan is celebrating Dylan's successful client meeting with the rest of the WindCity gang she mentions RBC's "Language Line" in response to a misunderstanding. What isn't a misunderstanding is that RBC recognizes that a challenge for newcomers to Canada is how to overcome potential language barriers. That is why RBC provides a service that enables clients to do business with RBC in over 144 languages through a three-way confidential call. It really is about tailored financial advice.
For more information on how Morgan isn't "just a banker" and RBC isn't "just a bank", visit www.rbc.com
Mon, Feb 10, 2014
"The first time I walked into the Shark Club Gaming Centre I thought, 'Wow! This is like an arcade for adults!' The lights and sounds brought me back to a time of playing PacMan in the 80's, but this new iteration is way more sophisticated." – Paul Vieira (WindCity creator)
Against the backdrop of flashing neon lights and socially energized patrons having a great time, Shark Club is a giant adult playground, making it the perfect rendezvous location for our WindCity characters.
Located right next door to the MTS Centre in CityPlace mall, Shark Club Sports Bar, Grill and Gaming Centre is one of downtown Winnipeg's newest additions. Incredibly innovative and diverse, Shark Club offers fun and exciting entertainment options to share with your friends.
Jets game tonight? Meet up for a drink before the puck drops, or enjoy the game on one of the 57 high-definition TV's and a state-of-the-art sound system. Not into sports but love a social atmosphere? Come down on a weekend for live DJ music and dancing. Shopping downtown? Take a break and enjoy some delicious eats prepared by a world-class chef. After dinner, try the experience of gaming with friends! Shark Club has slot machines, Blackjack and Roulette tables.
Regardless of your fancy, there is something for everyone to enjoy at Shark Club.
Check out http://www.sharkclubs.com
Thu, Feb 6, 2014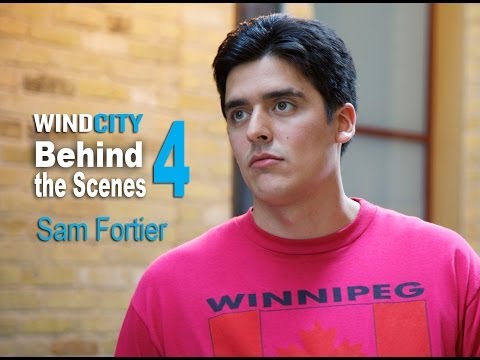 Arguably one of the best interns ever, the exuberant Sam Fortier is a product of his exceptional educational experience. As he puts it, "...Red River College…downtown Winnipeg! I'm in love with the whole thing!"
Offering unique shooting locations as well as fantastic and diverse subjects, Red River College was an easy choice for a WindCity brand partner.
The college is home to the fabulous Jane's featured in the restaurant scene in episode 2. Duke and Kate sit and discuss business over mouthwatering food prepared by the students and the college's celebrated chefs. The menu is full of the trendiest dishes modern culinary arts has to offer, and is served in a historic and elegantly refurbished building.
Aside from the beautiful Exchange District location, Red River College also has many other campuses throughout Manitoba and Distance Education options, making it easier than ever to connect and continue your education from wherever you call home.
If living close to campus is a preference, take a look at the best of downtown living in student residence at the Paterson GlobalFoods Institute. It can't get much better than rolling out of bed fifteen minutes before a class and still be on time!
One of the college's greatest trademarks by far, is the fact that its students come from many places, not just from Winnipeg or elsewhere in Canada. Take it from Sam himself, "I love it! Students travel here from all over the world. I have friends from China, Brazil - Let me do it in alphabetical order. Algeria, Brazil, China... Dubai... India!"
The world studies at Red River College! How cool is that?
Visit http://www.rrc.ca
View video
View all blog entries