Manitoba's bottom of the class
Low scores in reading, math, science
Read this article for free:
To continue reading, please subscribe:
Monthly Digital Subscription
$4.75 per week*
Enjoy unlimited reading on winnipegfreepress.com
Read the E-Edition, our digital replica newspaper
Access News Break, our award-winning app
Play interactive puzzles
Continue
*Billed as $19.00 plus GST every four weeks. Cancel anytime.
Hey there, time traveller!
This article was published 04/12/2013 (3404 days ago), so information in it may no longer be current.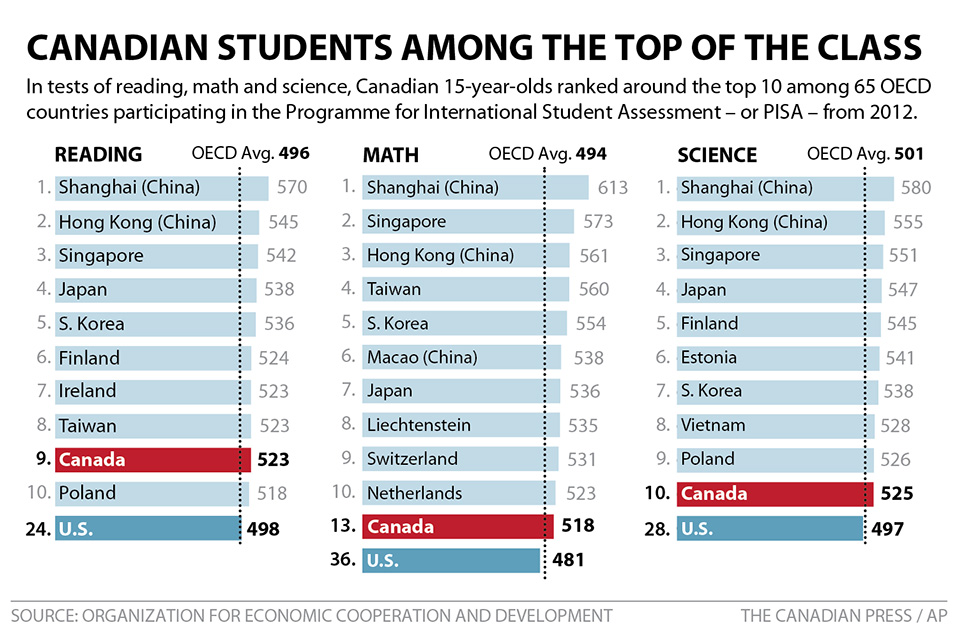 James Allum is a most unhappy camper — being the new education minister of a province with lousy math scores will do that to you.
"I was quite disappointed to see the results. They're quite clearly unacceptable, and parents will find them unacceptable," Allum said Tuesday after seeing grim results from the latest round of testing of students in the industrialized world.
"I had expected them to be better," said Allum. "We can do better, and we will do better.
"These results give us a mandate to look for alternatives — it's an opportunity to drive change," he said.
And not some vague time in the future, but immediately, Allum fumed, after meeting earlier Tuesday with the Manitoba Teachers' Society and the Manitoba School Boards Association.
The Organization for Economic Co-operation and Development released the results of its eagerly awaited — and dreaded — 2012 Programme for International Student Assessment (PISA) testing Tuesday.
OECD conducts the tests in math, reading and science every three years among 510,000 students aged 15 who OCED says are selected randomly, to represent 28 million students in 65 countries and economies.
Canada performed relatively well, ranking high among the 65 participants, even more so in the Top 10 when city-states such as Shanghai, Singapore, Macau and Hong Kong were removed from the rankings.
For Manitoba, whose scores had dropped from the middle of the pack among provinces in 2006 almost to the bottom in 2009, it was yet another day of really bad news. Our students scored eighth in math — only Prince Edward Island and Newfoundland and Labrador were worse — and ninth in reading and science, ahead of only P.E.I.
Even worse, Manitoba's scores continue to drop every three years, to the point our students are below the global average in math this time, and barely above the mark in reading and science.
"I can't give you the why — that's something that's incumbent on me and my educational partners" to find out and change, Allum said.
Allum said the capping of class sizes now underway should help, as should changes to the math curriculum introduced in September — requiring children to learn basic arithmetic and times tables before getting near a calculator.
But kids who will write the next round of PISA tests are already 13.
"We're going to get back to focusing on fundamentals," Allum said. "We need to make sure our kids are having productive days every day."
OECD did not list Canada among countries improving during the years of testing.
"The trend line in Canada, with a few exceptions, is we're all going downward," Allum lamented.
"I don't like the way it's trending," MTS president Paul Olson agreed.
What really bothered Olson is, as in previous PISA tests, when proficiency in math is broken down into several levels — the equivalent of how many students had an F to an A-plus — Manitoba has the most students in Canada in the lowest level of achievement, and the fewest students in the highest level of achievement.
"What really concerns me is the hollowing out of the middle," Olson said. "We've lost ground on that one. Does this mean we're losing the battle on protecting kids from poverty and those other issues?
"Maybe we should be looking to the west for good ideas. Saskatchewan has done well," the MTS president said.
A disappointed Kelvin Goertzen said the problem is that the NDP focuses on tossing in money instead of producing results.
As a parent greeting his child each day, the Tory education critic said, "The first thing we ask is, 'What did you learn in school today,' not, 'How much money did the government spend on you today?' "
Goertzen said Manitoba needs to examine what works elsewhere in Canada and internationally.
"The good news is, we do have very good teachers — it's what they're being required to do in the classroom that is failing," Goertzen said.
On a world level, Manitoba's scores are still better than the scores for the United Kingdom, United States, Russia, Sweden, Spain, Italy and Brazil.
"There's work to do," MSBA president Floyd Martens said from Dauphin. "We need to work collectively," and that includes working with preschoolers and working with families, Martens said.
nick.martin@freepress.mb.ca
What needs to change to turn around Manitoba's dismal results on these tests? Join the conversation in the comments below.
The Free Press is certified by