Manitoba's homicide rate highest among provinces
Read this article for free:
To continue reading, please subscribe with this special offer:
All-Access Digital Subscription
$1.50 for 150 days*
Enjoy unlimited reading on winnipegfreepress.com
Read the E-Edition, our digital replica newspaper
Access News Break, our award-winning app
Play interactive puzzles
Continue
*Pay $1.50 for the first 22 weeks of your subscription. After 22 weeks, price increases to the regular rate of $19.00 per month. GST will be added to each payment. Subscription can be cancelled after the first 22 weeks.
Hey there, time traveller!
This article was published 19/12/2013 (3204 days ago), so information in it may no longer be current.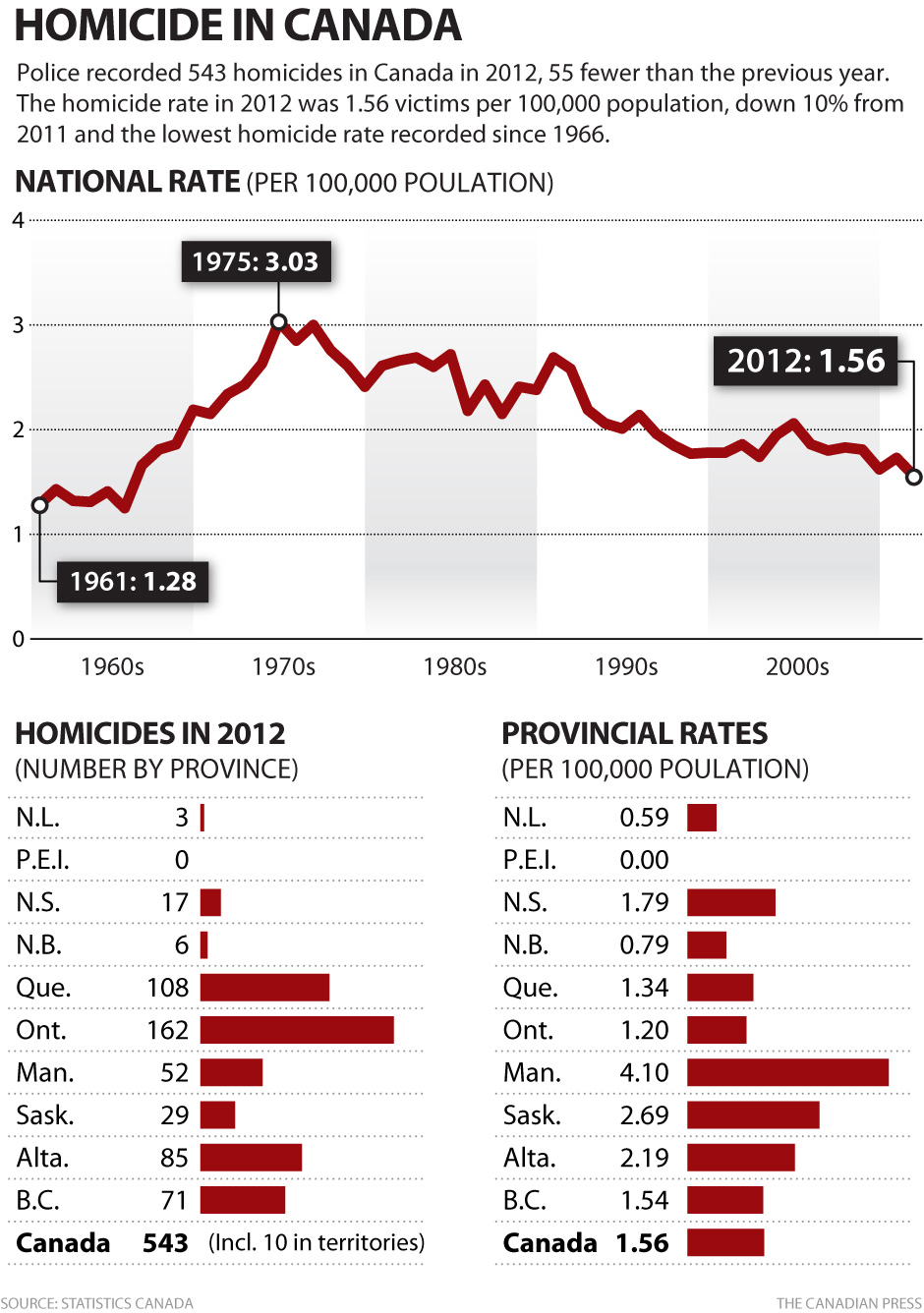 Manitoba still has some work to do in terms of lowering its homicide rate, according to a Stats Canada 2012 report released this morning.
Though the number of homicides was down slightly, Manitoba once again continued to record the highest rate among the provinces at 4.10 homicides per 100,000 population (52 homicides in 2012). That number is down slightly from 2011 (4.23 homicides per 100,000; 53 total).
Saskatchewan was second-highest among provinces, with a rate of 2.69 homicides per 100,000 people in 2012 (29 total). The decrease from 2011 was much sharper, though; Saskatchewan's rate was 3.59 the previous year (38 total).
Nationally, Canada recorded 543 homicides in 2012. There were 55 fewer homicides from a year ago and a 10 per cent drop in the homicide rate (1.56 in 2012 compared to 1.73 in 2011), giving the country its lowest homicide rate since 1966. Alberta, British Columbia and Saskatchewan made up the bulk of that drop, accounting for 49 fewer homicides in 2012.
Among the major Canadian cities, Winnipeg is once again near the top of list. Despite recording six less homicides in 2012 (33) than the previous year, Winnipeg landed the second-highest homicide rate in 2012 (4.09 per 100,000 people), trailing only Thunder Bay (5.81) in that category. Regina was third with a rate of 3.06 homicides.
Winnipeg has recorded 24 homicides in 2013.
The Free Press is certified by