Much earlier in the pandemic, I finally had to admit it was time to see a doctor.
Whatever bit or scratched me on Canada Day had left a bump on my forehead that wasn't going away. It was red. It was irritating. It hurt when I put on my hockey helmet. And even though my online research had taken me to the end of the internet, no homemade elixir had been identified.
Fortunately, a 10-minute doctors appointment led to an antibiotic cream that instantly provided not only comfort but also the healing that eluded me for the previous two weeks.
Of course, there's no comparison between whatever bit me and the big bite COVID-19 has taken out of all our lives. But there's a lesson here in the role doctors can play in helping us navigate the coronavirus, which is novel to all of us.
So much that has happened in the past year is beyond any of our reference points. Most of us don't get the science. At every turn, it seems, there's another pandemic plot twist like the latest involving AstraZeneca's jab.
In a perfect world, the Manitoba government should have done a better job of keeping everyone informed on what is literally a life and death issue. But as the Jan. 26th edition of this newsletter made clear, Manitoba Health was a tad slow with the public health education critical to getting everyone to roll up their arms for the jab.
Fortunately, Doctors Manitoba has done some of the heavy lifting to produce a user-friendly site delivering the information you can trust about what's in the syringe and how to get your shot. The website manitobavaccine.ca is a distillation of thousands of questions into the answers most of us need to know and deserve to know.
Now if only that website could tell me what bit my forehead on Canada Day…
— Paul Samyn, Winnipeg Free Press editor
---
THE LATEST NUMBERS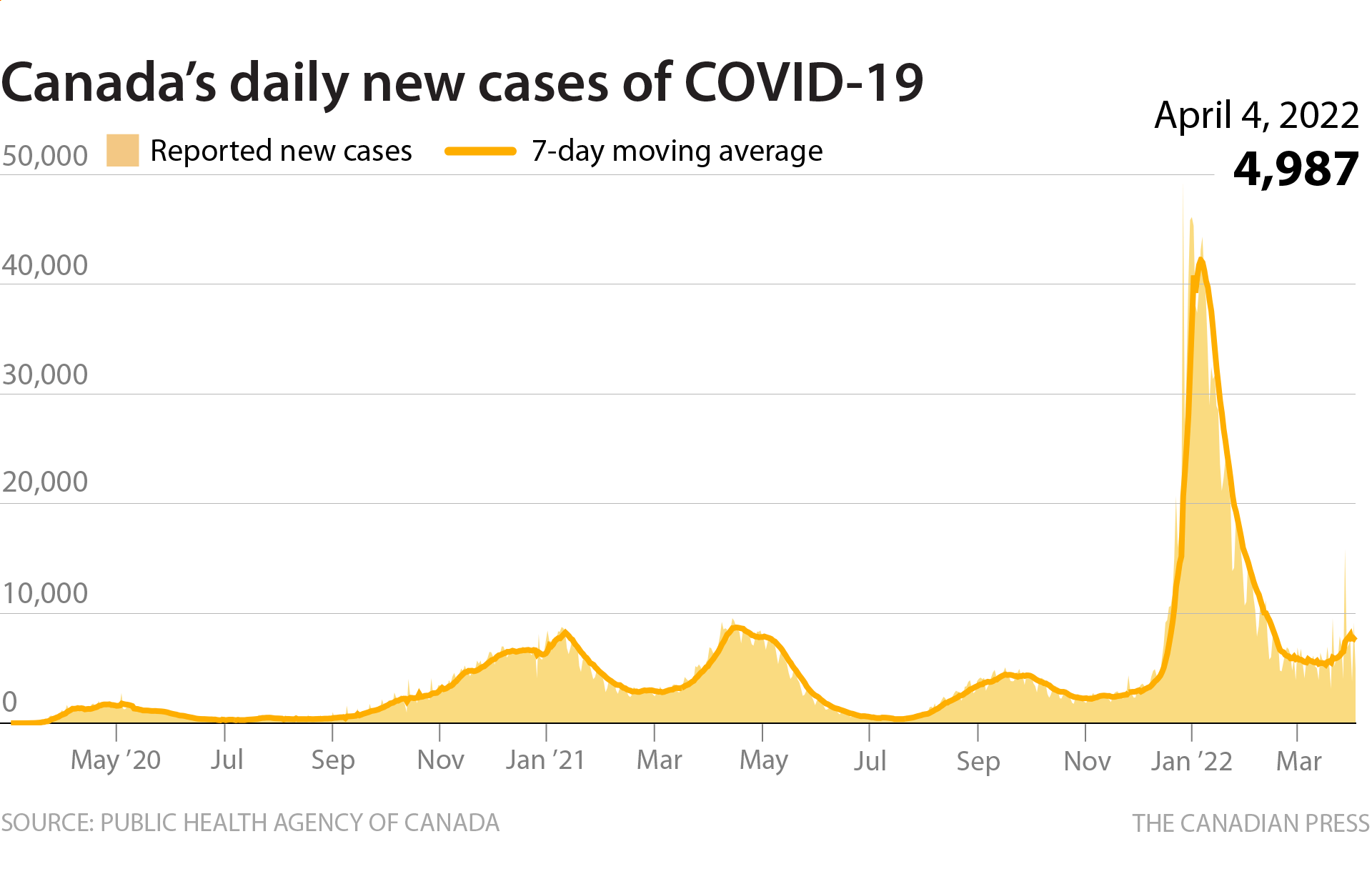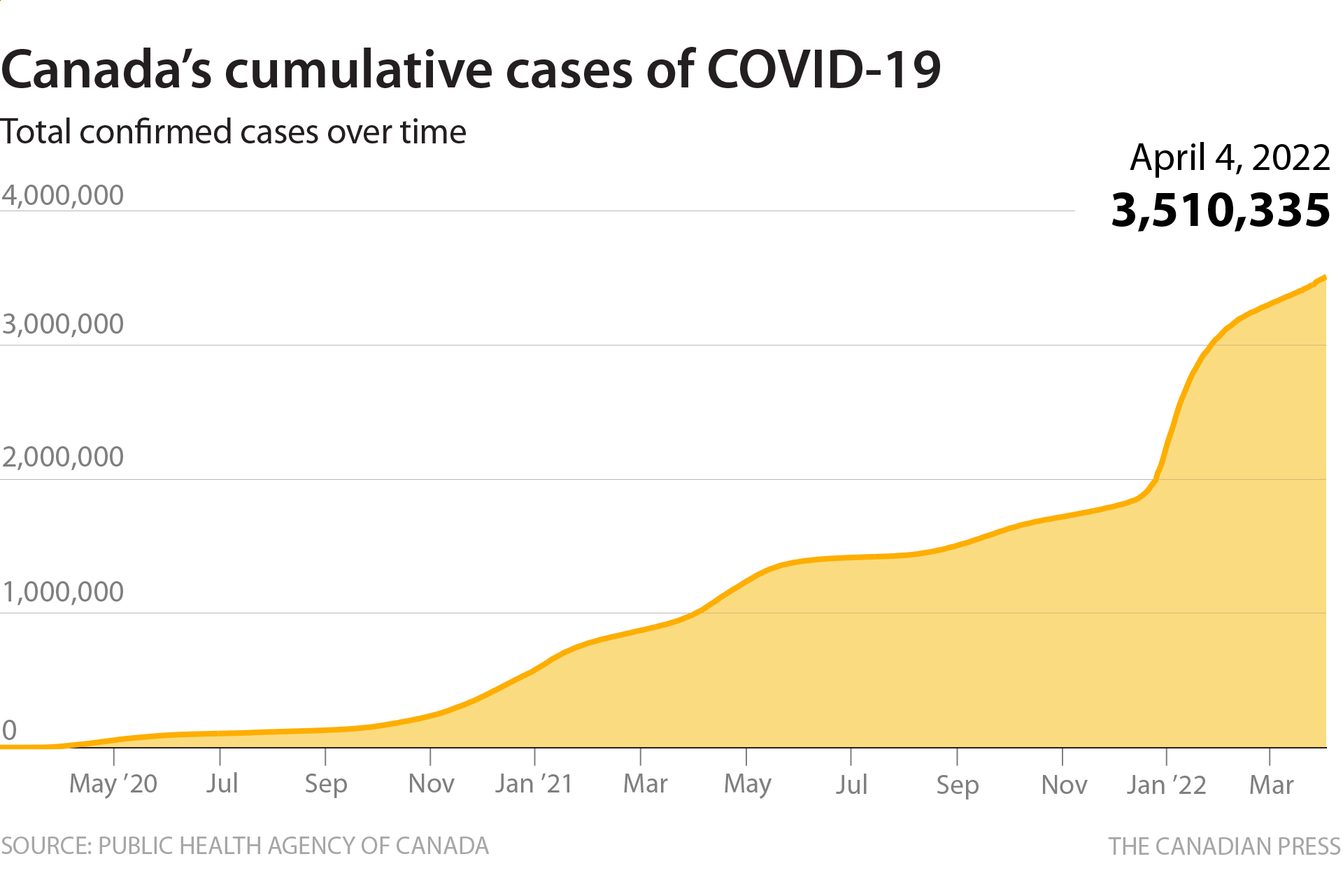 Note: Manitoba and Canada figures may not match due to differences in data sources.
THE LATEST IN MANITOBA
• Provincial health officials announced 53 new cases of COVID-19 and no new deaths Monday. Laboratory testing has identified variants of concern in 136 previously reported cases. Dr. Brent Roussin said on Monday that the B.1.1.7 variant, first identified in the United Kingdom, is becoming the predominant form of the virus in the province. There are 1,177 active cases in Manitoba, including 149 people in hospital, of which 27 are in intensive care. Of the new cases announced Monday, 21 are in the Winnipeg health region, 27 are in the Northern health region, two are in both Interlake-Eastern and Prairie Mountain, and one is in Southern Health. The five-day test positivity rate is 4.2 in Manitoba, and 3.3 in Winnipeg.
Vaccine eligibility:
• Vaccine age eligibility was lowered by another year on Monday to include people 64 years old or older and First Nations people 44 or older. Appointments can be booked by calling 1-844-626-8222 between 6 a.m. and 8 p.m. or by going online at wfp.to/eligibility. Dr. Joss Reimer also announced a pause on doses of the AstraZeneca/Covishield vaccine to people under 55 years old following new information about side-effects. The vaccine will be recommended for only those who are 55 to 64 at this time. Anyone under the age of 55 who has already booked an appointment with their physician or pharmacist will be contacted to cancel.
For the latest information on current public health orders, restrictions, essential items and other guidance, visit the provincial government's website.
For up-to-date information about which Manitobans are eligible for vaccination, click here. Only individuals who meet the criteria on that page can make an appointment; provincial officials ask that you do not call if you are not yet eligible to avoid tying up phone lines.
THE LATEST ELSEWHERE
• The number of patients in intensive care in France on Monday surpassed the worst point of the country's last coronavirus surge in the autumn of 2020, another indicator of how a renewed crush of infections is bearing down on French hospitals. ICU admissions are increasing by double digits on a daily basis. Doctors are increasingly sounding the alarm that they may have to start turning patients away for ICU care, particularly in the Paris region.
• Johnson & Johnson says it's agreed to provide up to 400 million doses of its one-dose COVID-19 vaccine to African countries, starting this summer. The drugmaker said under its agreement with the African Vaccine Acquisition Trust, the company will provide up to 220 million vaccine doses for the African Union's 55 member countries, with delivery beginning in the July-to-September quarter. The company's vaccine still must receive authorization from regulators in the African countries, but the World Health Organization approved it for emergency use on March 12.
• The Palestinian Authority received a shipment of 100,000 doses of Sinopharm vaccine donated by China. Health Minister Mai al-Kaila said the Sinopharm vaccines that arrived in Ramallah will "greatly contribute to speeding up the community vaccination campaign." Israel has come under international criticism for not sharing more of its vaccines with the Palestinians. Israel has said its priority was vaccinating its own citizens, but recently began vaccinating the estimated 100,000 Palestinians from the West Bank who work in Israel and Jewish settlements.
• Hungary has vaccinated more of its population than any other country in the European Union, but continues to be among the world's worst in the number of COVID-19 deaths per capita. The Central European country has given at least a first dose of a vaccine to nearly 22 per cent of its population, according to the European Centre for Disease Prevention and Control. The EU average is 12.3 per cent. But the high rate, a product of Hungary's purchase of doses from China and Russia as well as from the EU, has been unable to slow a surge in the pandemic.
QUOTE, UNQUOTE
"We have so much to look forward to, so much promise and potential of where we are and so much reason for hope. But right now, I'm scared."
— U.S. Centers for Disease Control Director Dr. Rochelle Walensky calls on Americans to not let their guard down in the fight against COVID-19
LOCAL NEWS
NATIONAL NEWS
INTERNATIONAL NEWS
COVID-19 BASICS