THE LATEST NUMBERS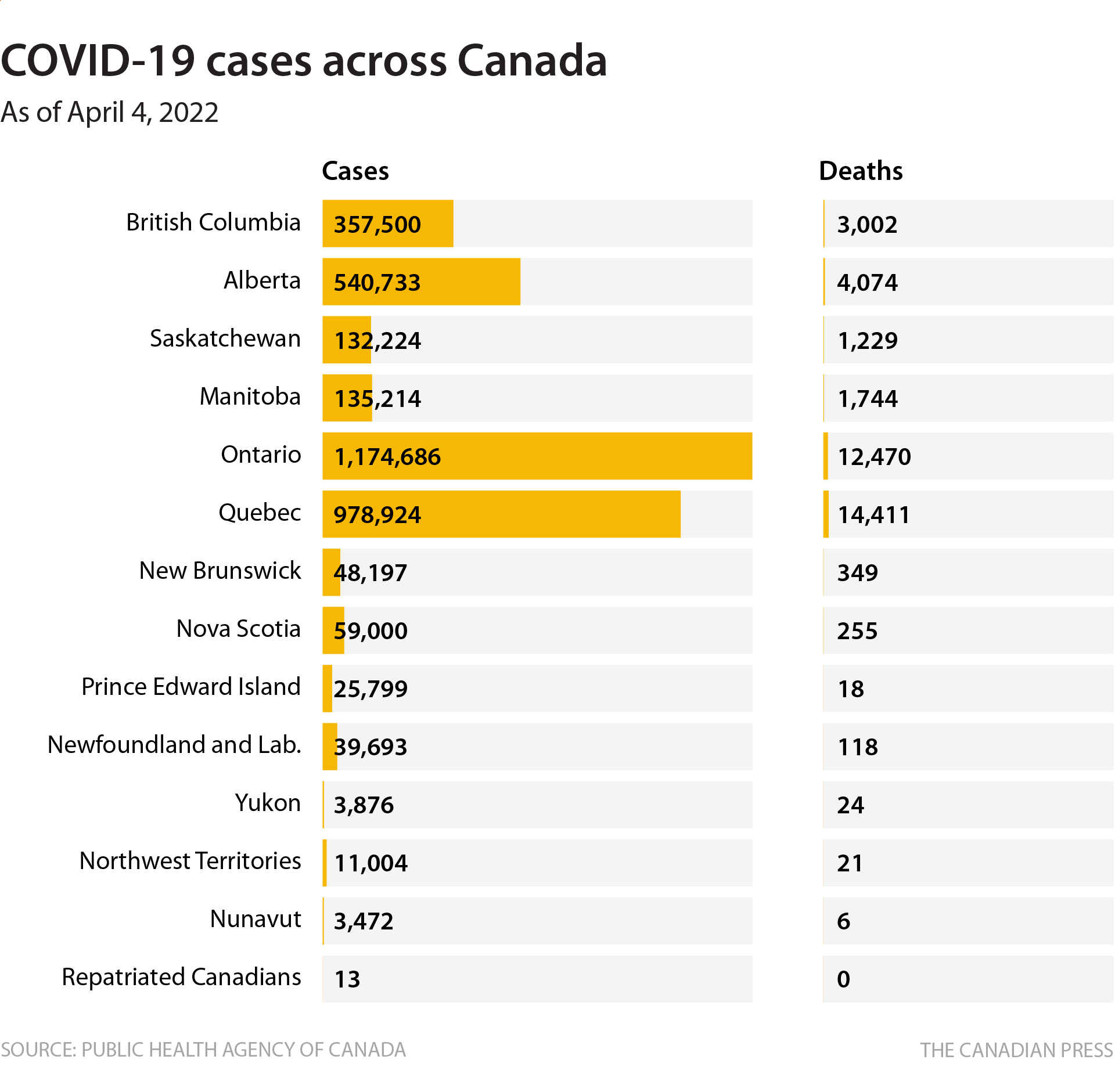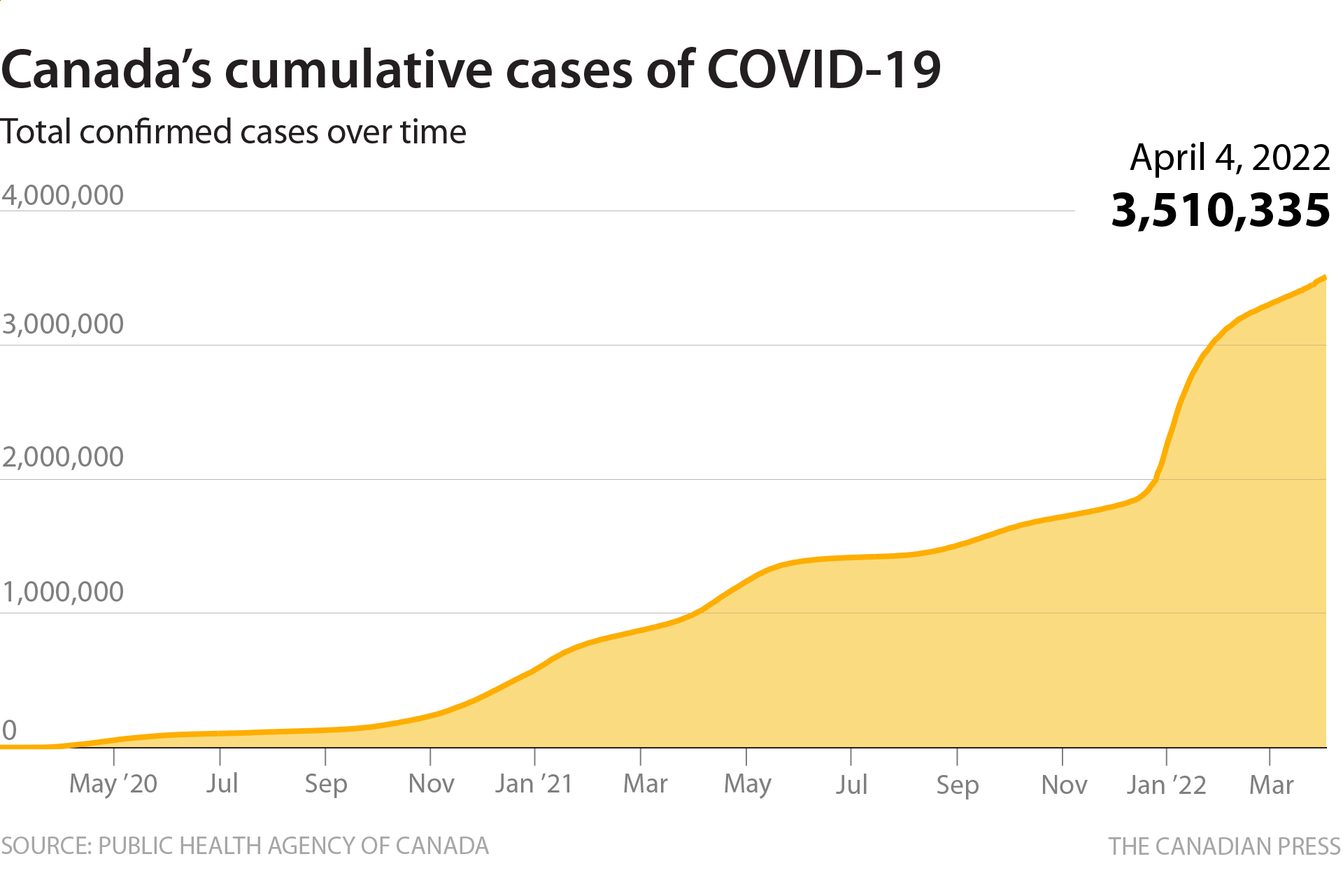 Note: Manitoba and Canada figures may not match due to differences in data sources.
THE LATEST IN MANITOBA
Twelve additional cases of COVID-19 were identified in Manitoba Saturday, and nine more Sunday, bringing the total number of lab-confirmed positive and probable positive cases in Manitoba to 203.
Eleven individuals are currently hospitalized, including seven in intensive care.  Two Manitobans have died, and seventeen have recovered. As of April 5, a total of 12,998 tests have been performed.
Health officials said Sunday that the presumptive positive COVID-19 test of a health-care worker at the Betel Home in Gimli was a false positive. Nine residents of the home who were tested have also shown negative results. 
The Canadian Union of Public Employees, which represents home care workers in Winnipeg and southern and northern Manitoba, says the province issued a directive that home care workers use personal protective equipment such as masks and gloves as of April 4, but due to a shortage, some won't have access to it until the week of April 13.
Make Poverty History Manitoba says the provincial government should increase welfare rates by $300 a month — something B.C. promised it would do. In Manitoba, single adults receive roughly $800 per month. While the province hasn't promised to boost the monthly welfare rate, it has implemented a rent freeze and announced $100 million for homeless shelters and to make sure Manitobans who can't pay their hydro, gas or car insurance bills on time aren't penalized for the next six months. 
THE LATEST ELSEWHERE
Prime Minister Justin Trudeau has announced details for a cash payment for Canadians out of work because of the COVID-19 pandemic. Applications for the Canada Emergency Response Benefit will be accepted starting Monday, offering Canadians who have lost their jobs because of the crisis $2,000 a month. Trudeau says it will take three to five days for the money to arrive by direct deposit or 10 days by mail.
Canada's public health chief says hospitals should not throw away used masks and other protective equipment because experts are looking to see if they can be disinfected and reused. Dr. Theresa Tam says protecting health care workers is one of her top priorities in the COVID-19 pandemic. She says there are companies in Canada with the capacity to decontaminate used masks and other equipment if the science can be proven.
Quebec Premier Francois Legault is extending the closure of non-essential businesses in the province to May 4. Legault says COVID-19 is still on an upward slope in Quebec and it would be unrealistic to keep to the original April 13 end date. The premier announced there were 19 new deaths in Quebec, for a total of 94, and 947 new cases for a total of 7,944.
Police in Sherbrooke, Que., say a Walmart security guard is fighting for his life after being struck and dragged by a driver who was allegedly enraged by the store's social distancing policies. They say the incident occurred at about 5 p.m. Saturday when the suspect tried to enter the Walmart with his partner but was told only one person per vehicle was allowed inside.
The Bank of Canada will release its business outlook survey on Monday as well as its survey of consumer expectations. The central bank has cut its key interest rate target three times in recent weeks to 0.25 per cent in an effort to help boost the economy as it deals with the fallout of COVID-19. On Thursday, Statistics Canada will release its labour force survey for March. The report is expected to show a massive plunge in the number of jobs as non-essential businesses shut down.
Spanish Prime Minister Pedro Sanchez penned an editorial published in several European newspapers to press for his proposed "new Marshall Plan" for Europe to act together in sharing the burden of the coronavirus crisis. Sanchez wrote Sunday that European Union members must do all they can to help their hardest=hit partners recover from the financial and economic impacts of the pandemic. If not, he said "we will fail as a union." Spain, Italy and France have had over 34,000 combined deaths from the virus, and other countries want the EU to issue joint European debt to spread the costs. Germany and the Netherlands have rejected the proposal.
ODDITY
Hawaiians have been forced to scrap traditional customs that require closeness as they deal with the pandemic. The traditional native Hawaiian greeting requires foreheads to touch. A person must breathe in the other person's "ha', or breath. The honi custom calls for people to share their spirits, face to face, eye to eye. The two-metre rule used to curb the transmission of the coronavirus is the antithesis of tradition in Hawaii, where cultural norms revolve around intimacy — greetings with hugs, kisses and lei. 
QUOTE, UNQUOTE
"This is going to be our Pearl Harbor moment, our 9/11 moment." 
-U.S. Surgeon General Jerome Adams, bracing Americans for the week ahead
Advertisement