Hey there, time traveller!
This article was published 9/12/2019 (560 days ago), so information in it may no longer be current.
Canadian jobs disappeared in November, driving the national unemployment rate up to 5.9 per cent. This should warn Finance Minister Bill Morneau: he may need to shift gears and focus his efforts more closely on employment growth.
Canada's unemployment rate, which climbed all through 2015, peaked at 7.3 per cent in February 2016, three months after Justin Trudeau's Liberal government took office. Unemployment declined pretty steadily for the next two years, partly because of the Liberals' deficit spending and partly because Canada's trading partners were doing well.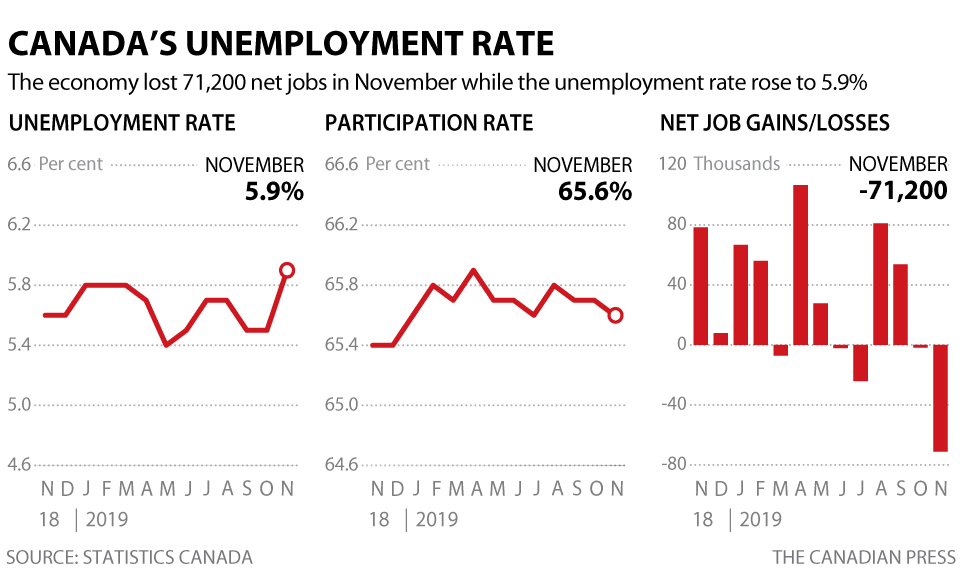 The decline in unemployment stalled at 5.9 per cent in January 2018. The Liberals continued to spend heavily, setting the 2019 budget deficit at $19.8 billion, but the unemployment rate no longer responded as it had done in the preceding two years. A low point of 5.4 per cent was reached in May this year; by November, however, unemployment was back up to 5.9 per cent of the labour force.
Canada's weak job performance was reported last week by Statistics Canada, which found that employment fell by 71,000 positions in November. In the United States, the Bureau of Labour Statistics reported the same day that total non-farm payroll employment rose by 266,000 in November, and the unemployment rate was essentially unchanged.
Canadian economy lost 71,200 jobs in November
Click to Expand
Posted: 12:02 PM Dec. 6, 2019
OTTAWA - The Canadian economy posted its biggest monthly job loss since the financial crisis in November, pushing the unemployment rate higher and raising the possibility the Bank of Canada may cut interest rates next year.
Statistics Canada said Friday the economy lost 71,200 jobs last month and the unemployment rate rose four-tenths of a percentage point to 5.9 per cent, its highest point since August 2018, when it hit six per cent.
In a context in which Canadian National Railway plans to lay off 1,600 people and the Lowe's hardware chain is closing 34 Canadian stores, it is hardly surprising that total employment in Canada dropped in November and the unemployment rate rose. The rail layoffs and the store closings reflect weak demand for shipment of commodities and for home renovation products and services. But the U.S. economy somehow continued modest employment growth in November and held its unemployment rate unchanged from October.
The Liberals won re-election in October with a promise to increase the basic personal amount in the income tax calculation by $2,000 so that Canadians will pay no income tax on the first $15,000 they earn. This is intended to save the average family about $600 per year.
People with jobs will be glad of that little bit of tax relief. For the growing numbers without jobs, however, the joy will be less intense. For those who fear job loss in declining industries, they need both tax relief today and brighter prospects for a future career.
The promised tax cut was good electoral strategy, but it is not by itself a policy for employment growth. Mr. Morneau needs to look closely at the effect of his previous budget deficits and craft a policy that more efficiently promotes employment growth.
The November rise in the unemployment rate may be a statistical oddity, or a result of imperfections in the survey method. But it may not. Since gross domestic product also weakened in the third quarter of the year — to 0.3 per cent from 0.9 per cent in the second quarter — the reported employment drop fits a national pattern of industrial decline.
If the January report on December employment confirms the pattern, Mr. Morneau should be ready with solutions. He should not keep Canadians waiting for a March budget. The fiscal update he has promised to provide before Christmas should offer some indication of what he intends to do in 2020 to give Canadian employers the confidence they need to expand their businesses and put Canadians back to work.