The question posed in our newsroom was a good one for which there was no clear answer. And while the query wasn't about news per se, it's one that likely affects workplaces far beyond the Free Press.
"If most of our staff will soon be fully vaccinated, does that mean we still need to wear masks around the office?" one senior editor asked.
She was fully masked as I pondered what to say about our newsroom directive that requires masks to be worn when moving about our socially distanced office or attending staff meetings.
She also didn't need an answer right away as it will still be weeks before two doses get into the arms of all our staff, but when that day comes, we really shouldn't need masks anymore, right? Isn't unmasking part of a life as we once knew it incentive to roll up our sleeves for the jabs?
According to the U.S. Centres for Disease Control, those fully vaccinated no longer need to be masked indoors or outdoors, except in hospitals, public transit or other specified places; however, that recommendation in place since May 13 only applies in the United States.
Since that time, there has been no similar guidance on this side of the border.
If nature abhors a vacuum, then so does a pandemic. The void that Canadian health officials have created even as we push ahead with vaccination efforts will be filled by advice coming from south of the border.
In other words, what's safe for American newsrooms should be safe for Canadian newsrooms, too.
Of course, I'd like to be able to give my staff answers based on the recommendations from public health officials in our country, but for reasons I've never understood, our officials can't get off a message track that talks about all the things we can't do, rather than what we can do.
It's an approach that has hurt vaccination efforts. It's a stance bound up in bureaucratic thinking that's created unintended consequences throughout the pandemic. I also worry it's a view rooted in a belief that we can't be trusted with certain types of information.
But at some point, they're going to have to trust us. They're going to have to tell us what the Americans have already known for more than a month.
They can't hide beyond masks forever.
— Paul Samyn, Winnipeg Free Press editor
---
THE LATEST NUMBERS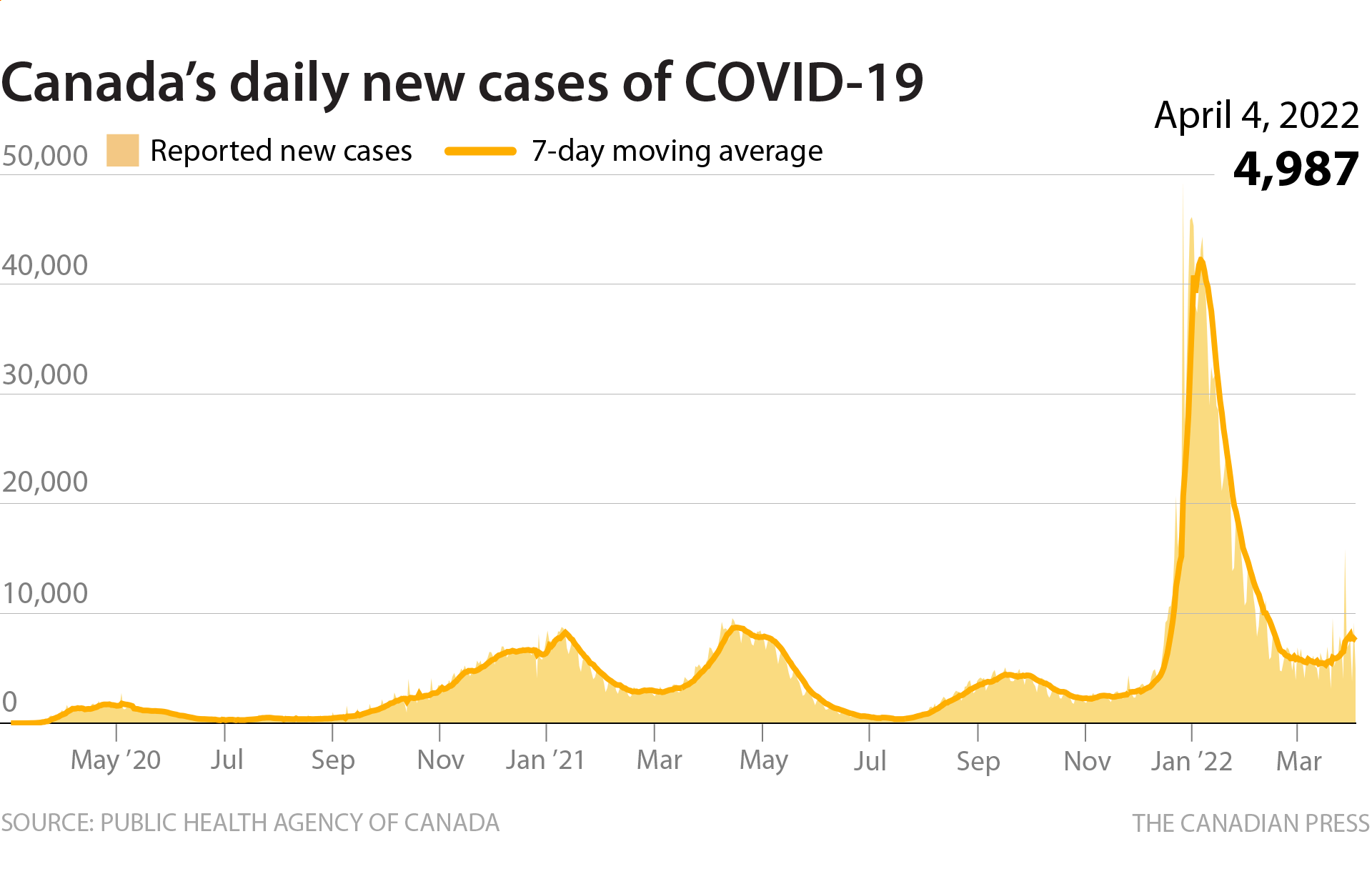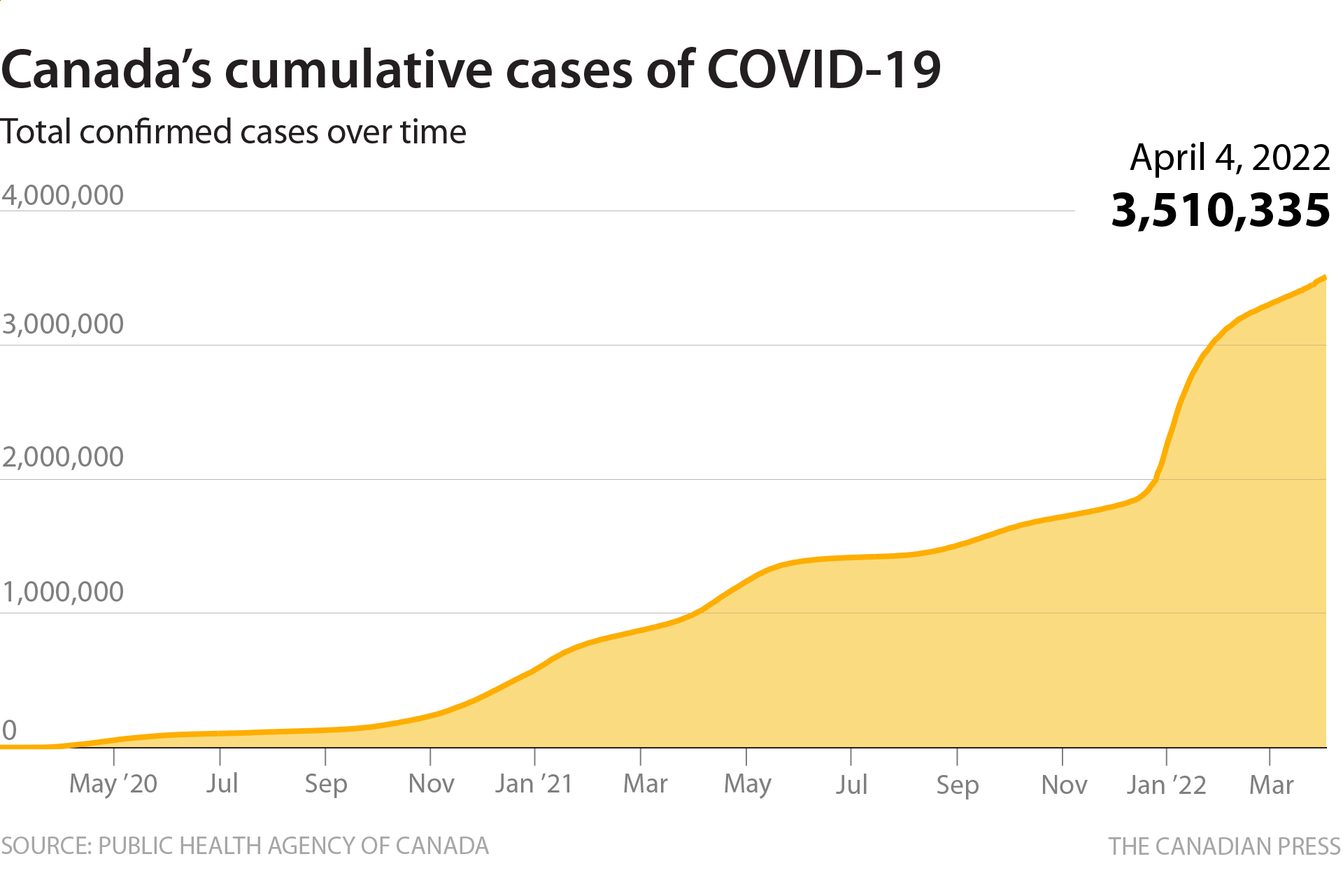 Note: Manitoba and Canada figures may not match due to differences in data sources.
THE LATEST IN MANITOBA
• Provincial health officials announced 183 new cases of COVID-19 and one more death in Manitoba Thursday. There are 2,532 active cases in Manitoba, with 246 people in hospital, 60 of them in intensive care. Another 20 Manitobans continue to receive care outside the province. The new death is a woman in her 60s from the Winnipeg health region linked to the B.1.1.7 variant. Of the new cases, 90 are in the Winnipeg health region; 27 are in Southern Health; 12 are in Interlake-Eastern; 20 are in Prairie Mountain; and 34 are in the Northern Health region. The five-day test positivity rate is 8.8 per cent in Manitoba and 8.5 per cent in Winnipeg.
• For the latest information on current public health orders, restrictions, essential items and other guidance, visit the provincial government's website.
• For up-to-date information about which Manitobans are eligible for vaccination, click here. Only individuals who meet the criteria on that page can make an appointment; provincial officials ask that you do not call if you are not yet eligible to avoid tying up phone lines.
THE LATEST ELSEWHERE
• The National Advisory Committee on Immunization is now recommending people who got the Oxford-AstraZeneca vaccine first should get Pfizer-BioNTech or Moderna for their second shot. Previously, NACI had said AstraZeneca recipients could choose whether to get a second dose of the same vaccine, or an mRNA vaccine. In new guidance released Thursday, NACI says Pfizer or Moderna are now preferred as the second dose. The guidance is based on growing evidence that a second dose of an mRNA vaccine produces a stronger immune response, and because of the low but serious risk of vaccine-induced blood clots associated with getting AstraZeneca. The advice doesn't mean people can't still choose AstraZeneca if they want, or if they are allergic to the mRNA vaccines.
• The U.S. Open tennis tournament will allow 100 per cent spectator capacity throughout its entire two weeks in 2021. The U.S. Open will be the first Grand Slam tournament to have full attendance since the start of the pandemic. More than 700,000 people attended the two-week U.S. Open in 2019. On Tuesday, New York Gov. Andrew Cuomo said many of the state's remaining social distancing rules would be eased because 70 per cent of its adults have received at least one dose of a coronavirus vaccine.
• The U.K. has recorded more than 10,000 daily coronavirus infections for the first time in nearly four months, likely the result of the spread of the more contagious delta variant. Government figures Thursday reported 11,007 daily cases, the highest daily amount since Feb. 19. The variant, which accounts for around 95 per cent of all new cases in the U.K., is considered by government scientists to be between 40 per cent to 80 per cent more transmissible than the previous dominant strain.
QUOTE, UNQUOTE
Anyone who has already received two doses of AstraZeneca/COVISHIELD can rest assured that they are protected, particularly against severe illness. There is no need for a third dose at this time."
— Dr. Shelley Deeks, NACI Chair, comments on a new recommendation encouraging AstraZeneca recipients to instead choose an mRNA vaccine for their second dose
LOCAL NEWS
NATIONAL NEWS
INTERNATIONAL NEWS
COVID-19 BASICS