If Canada is awash in 140 million rapid tests, then that's a good thing given the realities of Omicron.
If Canada, however, doesn't adjust to the realities of what that means for those who confirmed COVID via a home test and want to travel abroad, then that's a bad thing.
Let me explain.
When fully vaccinated Canadians travel outside of the country, they are exempt from quarantine upon their return if they provide proof of a negative PCR test taken within 72 hours. But if you've already had COVID-19 and can provide proof of a positive test result between 11 and 180 days ago, you're exempt from the pre-arrival PCR test requirement.
This distinction seemed reasonable until the country's testing capacity was swamped by Omicron. Suddenly, not everyone could get a PCR test when they needed one. Increasingly, those who had COVID symptoms were told to assume they had the virus or to make use of a rapid test if they could their hands on the self-administered detection kits.
What that means is we now have two classes of Canadians who tested positive for COVID: those with the proof provided by the gold standard of PCR tests, and those with little more than two red lines on a home-testing device that were never recorded in Canada's official COVID count.
With Omicron omnipresent, you might ask what good are pre-arrival PCR tests these days, anyways. Community spread is rampant in every city and every country. We don't need to worry about importing Omicron because it is already here in our workplaces, schools and homes. When a fully vaccinated person can drive two hours to Brandon before returning home to Winnipeg without a PCR test, we really need to ask why we would require one for the same person driving back from Grand Forks?
If our public health orders are going to be guided by science, I'd really like to see the data that justifies the demand for PCR tests at the border for the fully vaccinated. But even if theatre is going to trump science, can we at least pay some heed to fairness?
For almost a month now, Canadians have been asked to help preserve the country's PCR testing capacity by opting for a rapid testing kit if they suspected they had COVID. It hardly seems right to tell those who did as they were told that their positive COVID test isn't good enough to avoid having to pay for a PCR test prior to returning to their country.
Much of what we have faced during the pandemic has bordered on the inconsistent and the illogical.
I'd like to think those overseeing Canada's border security would see dropping the demand for PCR tests for the fully vaccinated as a passport to some long overdue common sense.
---
THE LATEST NUMBERS
Note: The number of daily and active cases in the charts below are based on the number of positive PCR tests reported by Manitoba Health. Unless they meet certain requirements, most Manitobans are now being directed to do rapid antigen testing rather than PCR tests, and rapid test results are not included in these numbers. As a result, the active and daily case numbers below are estimated to be much lower than actual cases in the community.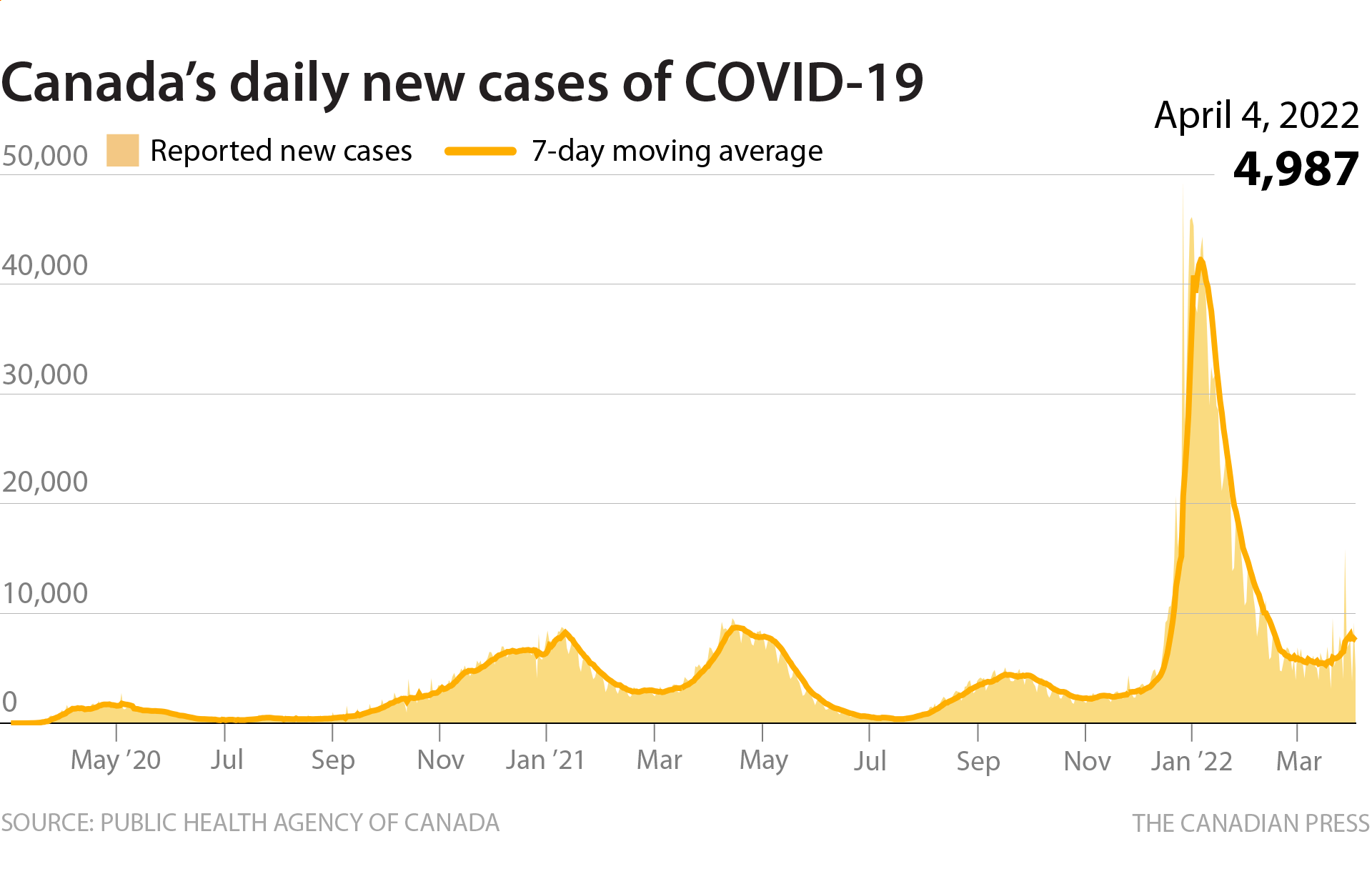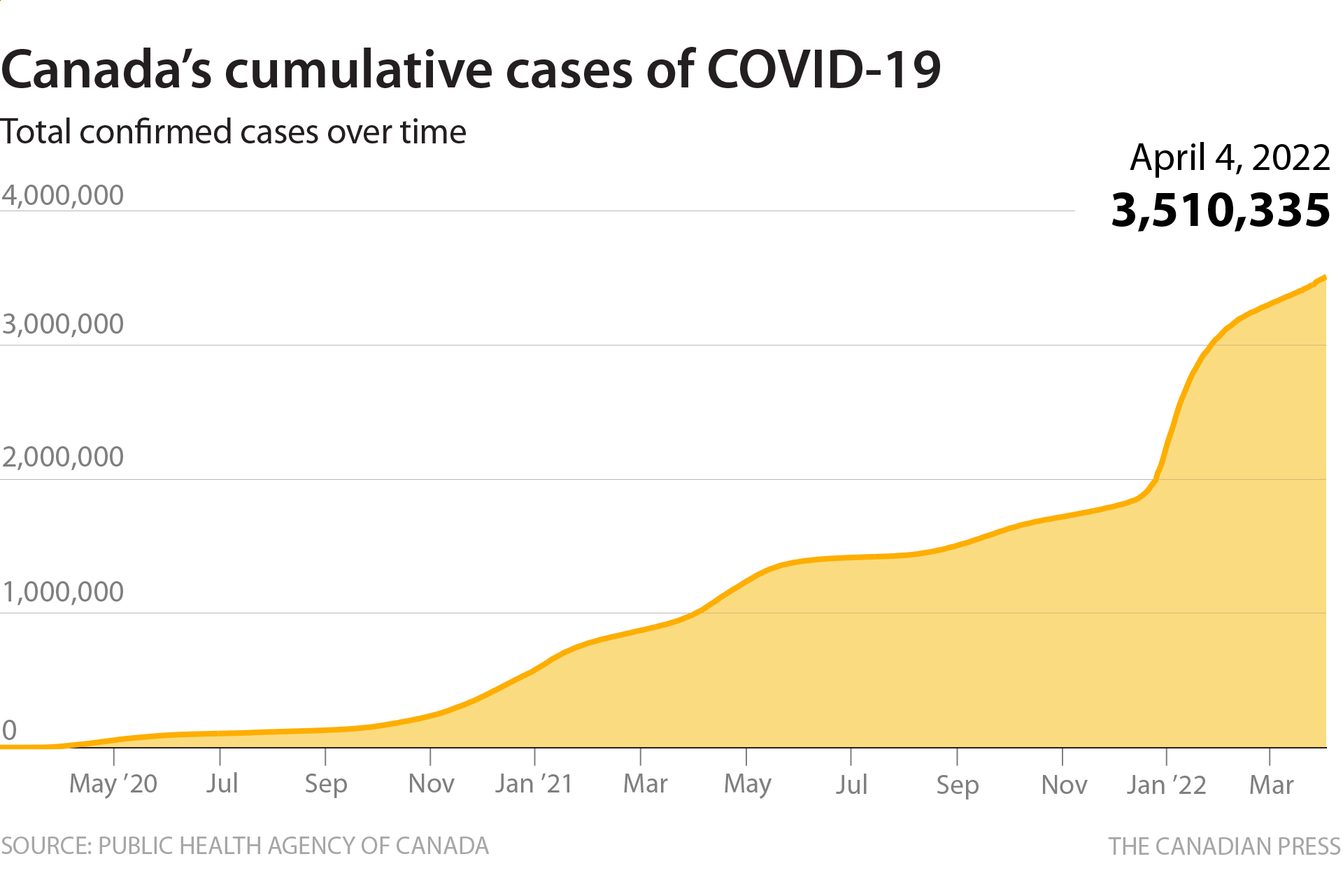 To see a larger selection of charts showing the state of COVID-19 provincially and nationally, visit COVID-19 by the numbers.
THE LATEST IN MANITOBA
• Manitoba reported eight more deaths owing to COVID-19 on Friday. The province's pandemic death toll is now 1,492. According to the government's pandemic dashboard, 664 people with COVID-19 were in hospital, including 50 in intensive care. There were 827 new cases confirmed through PCR testing since Thursday. The five-day test positivity rate provincewide was 32.4 per cent; 2,721 lab tests were processed Thursday. The province is no longer tracking the majority of positive COVID-19 cases because PCR testing is limited and Manitobans using rapid tests are not able to report their results. Outbreaks have been declared at: Health Sciences Centre, unit PX3, Winnipeg; and Brandon Regional Health Centre, 300 surgical unit. Health officials declared the outbreak over at Health Sciences Centre, unit GA5.
• People attending Wednesday's executive policy committee meeting at city hall may have been exposed to COVID-19. The City of Winnipeg announced on Friday it is reaching out to EPC members, as well as city staff, delegates and reporters who were at the meeting. People are being told while they don't have to self isolate, they do need to monitor for symptoms. The council chambers have been cleaned using an anti-static fogging system. All people who enter city hall have to be fully vaccinated, wear a mask, and stay two metres apart from each other.
---
For the latest information on current public health orders, restrictions and other guidance, visit the provincial government's website.
First- and second-dose vaccinations are available for all Manitobans over five years of age. Third-dose shots are available to all Manitoba adults. Check eligibility criteria and recommended time frames between doses at wfp.to/eligibility. Appointments can be booked online at wfp.to/bookvaccine or by calling 1-844-626-8222.
Manitobans who have received all required doses of a vaccine at least 14 days ago can request an immunization card to prove complete vaccination. To request a digital or physical card, visit the provincial government's website.
THE LATEST ELSEWHERE
• The Saskatchewan government is asking public sector employees from other departments to help the health-care system in the coming weeks. In an email to executive council staff, who provide support to Premier Scott Moe, his cabinet and committees, workers were asked to volunteer as care aides in hospitals, long-term care homes, COVID-19 testing sites and public health clinics. The Saskatchewan Health Authority said in a statement that the duties would be non-medical roles such as meal preparation, cleaning and administrative duties, which could include feeding people, taking residents or patients to the bathroom, helping them get dressed, answering phones, moving medical supplies and directing traffic. The Saskatchewan Health Authority is seeking 500 volunteers to assist in areas that are understaffed due to COVID-19.
• Australia on Friday reported its deadliest day of the pandemic with 80 coronavirus fatalities, as an outbreak of the Omicron variant continued to take a toll. But Dominic Perrottet, premier of the most populous state, New South Wales, said a slight decrease in hospitalizations gave him some hope about the strain the outbreak is putting on the health system. The previous record of 78 deaths was set on Tuesday. There have been just under 3,000 coronavirus deaths in Australia since the pandemic began. New South Wales, home to Sydney, reported a record 46 deaths. The news came after the premier of Western Australia state, Mark McGowan, backed down on a promise to reopen the state to the rest of the country on Feb. 5. No new date has been set for when the state might relax its border closure.
• The World Health Organization says coronavirus vaccine boosters should now now be offered to people, starting with the most vulnerable, in a move away from its previous insistence that boosters were unnecessary for healthy adults and an acknowledgment that the vaccine supply is improving globally. At a press briefing on Friday, the UN health agency said it was now recommending booster doses of the Pfizer-BioNTech vaccine, beginning in the highest-priority groups, about four to six months after receiving the first two doses, in line with guidance from dozens of countries that embarked upon booster programs months ago. Last year, WHO pleaded with rich countries to declare a moratorium on offering booster doses until the end of 2021, an appeal that went almost entirely ignored. The agency said its expert vaccine group assessed the increasing data about booster doses and noted the waning of immune protection over time. Numerous studies have shown in recent months that booster doses restore antibody levels and offer strong protection against severe disease, including against COVID-19 variants like Delta and Omicron.
• Restaurants and bars will close early in Tokyo and a dozen other areas across Japan as the country widens COVID-19 restrictions due to the Omicron variant, which has caused cases to surge to new highs in metropolitan areas. The restraint, which is something of a pre-state of emergency, is the first since September and is scheduled to last through Feb. 13. With three other prefectures — Okinawa, Hiroshima and Yamaguchi — under similar measures since early January, the state of restraint now covers 16 areas, or one-third of the country. Tokyo logged 9,699 new confirmed cases Friday, exceeding the record 8,638 the day before.
QUOTE, UNQUOTE
"There is no doubt that nobody wants to have all these restrictive measures anymore, and Omicron may or may not have put us one step toward that new reality. We need to plan for the different scenarios and just be ready for a time of emergence of new variants. But we've got to move on and see how we can make our societal functions closer to what they were before the pandemic."
— Dr. Theresa Tam, Canada's chief public health officer, looks to the future amid signs the Omicron variant has peaked nationally
LOCAL NEWS
NATIONAL NEWS
INTERNATIONAL NEWS
COVID-19 BASICS