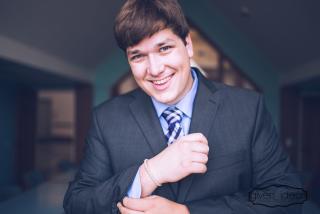 Mike Urichuk
Morden-Winkler - Green Party of Manitoba
Age: 24
​Music Educator, Basketball lover, and sustainable energy enthusiast, Mike Urichuk currently lives in Winkler, Manitoba with his wife, Melanie. Mike works as a grade 8 science and math teacher as well as a grade 5-8 band teacher, a multi-faceted position for a versatile individual. A proud brother in a family of 8, Mike continues to be inspired by his brothers and sister as they continue to pursue their careers in various cities across the country. Urichuk's sense of home has always been tied directly to the people that he surrounds himself with.

At the age of 24, Urichuk has moved to Winkler after having completed university in Brandon where he had been elected the Education Commissioner for the Brandon University Students' Union (BUSU) for 2013-14. In this role, Urichuk worked alongside with the executive members to better define the commissioner positions and impose a flat tuition rebate for those elected to the positions. This BUSU council was able to pass years of back-logged motions and amendments and create the salary position of an office and services manager without raising student fees.

Since his move to Winkler, Urichuk has participated in coaching and refereeing youth basketball as well as serving as a representative on the Garden Valley Teachers' Association Collective Bargaining Committee.
Why did you decide to run in this election?
I am running to give voice to Manitoban concerns and provide citizens with a choice for their future. The Green Party of Manitoba has a phenomenal platform but great ideas always require someone to champion them. It is integral for me, as a citizen, to stand up for a sustainable future by giving voice to great ideas like the Guaranteed Annual Income, that will lead to a massive reduction in poverty. By helping individuals in need, we allow them to contribute to their local communities, invest in their children's futures, and in turn allow us to build a brighter future. I am running to give voice to ideas that allow us to move toward a brighter future the only way that we can, together.
Why did you choose this party?
I believe in the values that the Green Party of Manitoba holds true. Both myself and the Green Party believe in empowering the voices of individuals and municipalities, building programs and systems that last, and helping those who need help. It is my purpose in life to make this world a better place. This includes taking care of people and our planet.
What qualities do you admire most about your party leader?
James Beddome is a fast-learner who is doing a great job of supporting his fellow candidates. He has been working to help develop a strong team atmosphere among Green Party candidates and I have really appreciated that.
What are the biggest issues facing your riding?
Healthcare, the economy, taxes, and education.
Why are you the best candidate representing your riding?
In a nutshell, I am a compassionate person who always seeks to understand. In Morden and Winkler, we value integrity, honesty, the family unit, and we are kind and caring. I will share these values and fight for legislation to uphold these values once elected as MLA.
If elected what would be the first thing you would do?
Meet with the other elected MLAs. In any sort of team setting, formal or informal, you need to know the people that you will be working with. Getting to know the other individuals removes the idea that we are people who are fighting against one another in the assembly and plants seeds that we are working together to build the best Manitoba possible. Policy-wise, I will fight to implement a Guaranteed Annual Income and put forward an action plan to protect Lake Winnipeg.
Tell us something about yourself that voters may find surprising.
Usually tall for my age, I was called the Jolly Green Giant from time to time. Now at 6'6" and running for the Green Party of Manitoba, I guess I've finally lived up to all facets of that nickname.