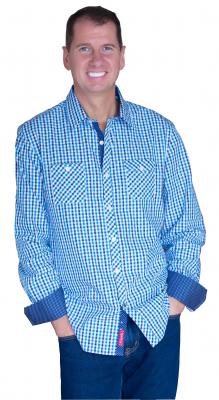 Shannon Martin
Morris - Progressive Conservative Party of Manitoba
Age: 45
Incumbent MLA, first elected January 2014. Prior to my election I was Executive Director of a nonprofit, Reaching Equality Employment Services, which helped persons with disabilities or health conditions find and maintain employment. I am a married man, my wife and I have three young children and I'm an avid runner.
Why did you decide to run in this election?
After 17 years of mismanagement by the NDP, whether it is the lowest educational test scores in Canada, the highest health care waiting lists, or doubling the provincial debt it was clear that sitting on the sidelines was not an option for me. I believe that Manitobans deserve better from their government, a government that will rebuild their broken trust and make Manitoba the have province we truly are.
Why did you choose this party?
During my tenure running a nonprofit I saw our funding cut year after year after year under the NDP. I saw countless hours spent filling out paperwork for no reason other than "it's always been this way." I saw a NDP government that wasted millions on political pet projects or direct energies to an internal feud while starving nonprofits and their clients of the funding necessary to improve the lives of some of our most vulnerable citizens.
What qualities do you admire most about your party leader?
During my first meeting with our leader Brian Pallister he commented that there was no problem facing Manitoba that could not be fixed by what's right with Manitobans. He has always presented himself as a straight forward team leader who expects the best from his team only because that is what he delivers every day.
What are the biggest issues facing your riding?
The riding of Morris is a growing community and with that growth comes pressures on local infrastructure whether it is the traditional pipes and pavement or access to health care, overcrowded schools or a lack of recreational opportunities. At the doors voters are telling me that they want their tax dollars spent strategically, not on politically motivated pet projects.
Why are you the best candidate representing your riding?
I believe that my background as someone who has worked in the nonprofit world, who understands the challenges of living within your own means while trying to deliver quality services coupled with my experience as a legislator the last two years ensures I am able to offer voters continued good representation.
If elected what would be the first thing you would do?
If, on April 19th, I am fortunate enough to be re-elected as MLA for Morris I will hug my wife and three kids, thanking them for their support and patience not only these last five weeks of the campaign but the last two years. I would never have achieved any success without their love and support.
Tell us something about yourself that voters may find surprising.
I cycled 2,500 kilometers from Kansas City to Winnipeg and another 2,500 kilometers from Winnipeg to Green Bay to raise funds and awareness for Habitat for Humanity.