Canada's cannabis use rate holds steady New Statistics Canada data highlights differences in how men, women use drug
Read this article for free:
To continue reading, please subscribe:
Monthly Digital Subscription
$4.75 per week*
Enjoy unlimited reading on winnipegfreepress.com
Read the E-Edition, our digital replica newspaper
Access News Break, our award-winning app
Play interactive puzzles
Continue
*Billed as $19.00 plus GST every four weeks. Cancel anytime.
Hey there, time traveller!
This article was published 15/08/2019 (1385 days ago), so information in it may no longer be current.
Sixteen per cent of Canadians used cannabis in the second quarter of 2019, according to Statistics Canada — a figure unchanged from pre-legalization usage in the same period of 2018, but slightly lower than the 18 per cent rate tracked in the first quarter of this year.
The latest National Cannabis Survey measured cannabis use among those aged 15 or older, with a sample of 6,466 people. The 16 per cent rate amounts to 4.9 million Canadians using the drug at least once during the quarter.
Rates of cannabis use remained stable on an annual basis within most age groups, except for Canadians aged 65 and up. Among those, rates increased significantly to 5.5 per cent in the second quarter of 2019 from 3.4 per cent during the second quarter of 2018.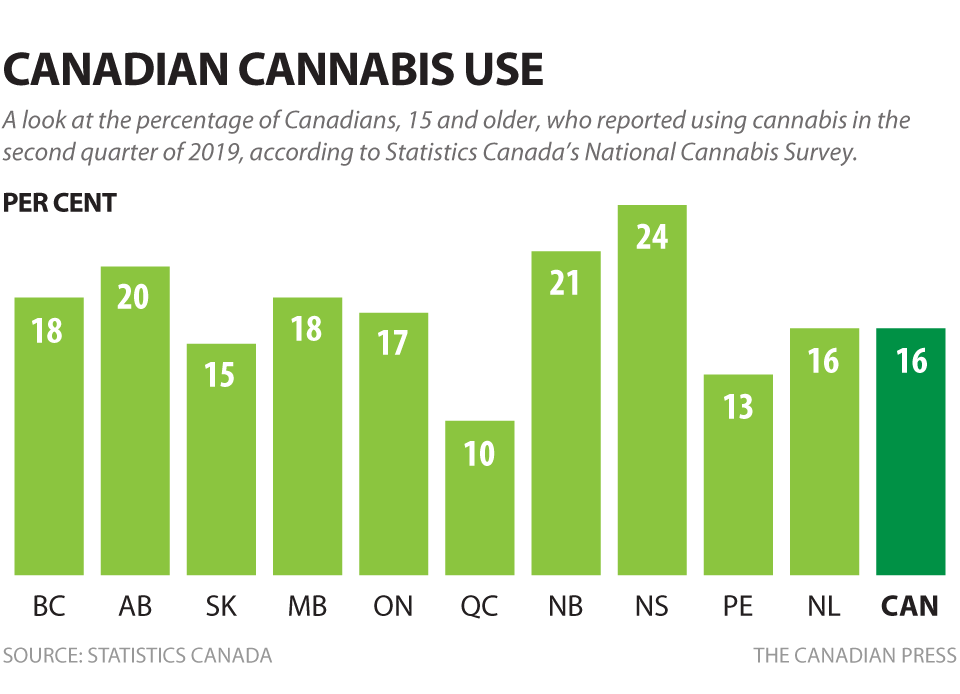 Lynda Balneaves, an associate professor of nursing at the University of Manitoba whose research interests include cannabis health policy, said researchers aren't surprised rates have remained mostly stable.
"Our sense was that we were almost at a saturation point, that people that were interested in using cannabis are using cannabis… Seeing those numbers not change, I think, is reassuring from a public health perspective," she said.
The statistically significant annual increase in cannabis use among the oldest group of Canadians didn't surprise Balneaves, either. She said an octogenarian recently approached her at a social event and asked if Balneaves would educate her bridge group about cannabis.
"She says, 'We usually have a glass of wine, but we're all saying, well, now that it's legal, and before we die, we want to try it'… In the older population, I think we're just seeing people feeling more comfortable with using cannabis, now that it's not an illegal substance."
The national data bureau's Thursday release also highlighted significant differences in the ways cannabis is used by Canadian women and men. Males used cannabis at a 21 per cent rate in the first half of the year, nearly twice the 12 per cent use rate for females.
Male users were more likely than females to report using cannabis for exclusively non-medical reasons, while females were proportionally likelier to report use for medical purposes or both medical and non-medical purposes.
That finding caught the interest of Jenna Valleriani, a sociologist who has studied cannabis use and serves as chief executive officer of the non-profit National Institute for Cannabis Health and Education.
The higher rates of medical cannabis use among females might "represent an idea that women may have a higher prevalence of physical and mental health symptoms for which they might use cannabis medically or therapeutically," Valleriani said.
"It could be that there are women who are just self-medicating with cannabis for untreated ailments," she added.
"But also, I think that there's something there that reflects that women are just more likely to rationalize, and think about, their cannabis use as medical. And I think part of that is around, consciously or not consciously, wanting to distance themselves from the stigma of substance use."
Statistics Canada found smoking is still Canada's favourite way to use cannabis, employed by 68 per cent of male users and 62 per cent of females. But, compared to men, female users were nearly three times likelier to use alternative methods of consumption, such as topical creams or orally-administered oils.
That finding rings true to Ashleigh Brown, founder and CEO of SheCann, an online community for Canadian women who use medical cannabis.
"Although a lot of our members do consume cannabis through inhalation, in addition to other methods, there is a widespread prevalence and curiosity in terms of other methods of ingestion, specifically making their own topicals or edibles," Brown said.
"Often it's a case of discretion or convenience, so they're looking for ways to consume cannabis in public, consume cannabis at work, consume cannabis in environments where smoking or vaping may be less convenient. There's an interest, also, in products that will allow them to function during the day, and are non-intoxicating."
Canadians are still sourcing some of their cannabis from the black market, with 42 per cent of consumers getting at least some weed from illegal sources. Forty-eight per cent reported buying at least some cannabis from a legal source, but Statistics Canada found only 29 per cent of consumers got their cannabis exclusively from the legal market in the first half of 2019.
solomon.israel@theleafnews.com
Twitter: @sol_israel
History
Updated on Friday, August 16, 2019 4:13 PM CDT: Corrects erroneous repetition of "per cent" in final paragraph.
The Free Press is certified by