Four arrested after RCMP officer shot in western Manitoba 18-hour manhunt ended with long standoff in Neepawa with final suspect
Read this article for free:
To continue reading, please subscribe with this special offer:
All-Access Digital Subscription
$4.75 per week*
Enjoy unlimited reading on winnipegfreepress.com
Read the E-Edition, our digital replica newspaper
Access News Break, our award-winning app
Play interactive puzzles
Continue
*Pay $19.00 every four weeks. GST will be added to each payment. Subscription can be cancelled anytime.
Hey there, time traveller!
This article was published 30/08/2018 (1623 days ago), so information in it may no longer be current.
It's a long-held mantra within any police agency: There is no such thing as a routine call.
Manitoba RCMP got a tragic reminder of that late Wednesday night when one of their own was ambushed and shot while responding to a break-and-enter report near Onanole.
Cpl. Graeme Kingdon, 42, suffered serious injuries after being struck in the upper-body by gunfire just seconds after he exited his cruiser car. Four suspects immediately fled the area, triggering an intense manhunt that spanned approximately 18 hours and essentially put the western part of the province under lockdown.
"The RCMP is truly a large family, and what has unfolded over the last few hours truly affects every officer and employee from coast to coast. I know it touches many Canadians as well," Assistant Commissioner Scott Kolody, commanding officer of the Manitoba RCMP, said Thursday morning during a news conference.
High anxiety in normally quiet community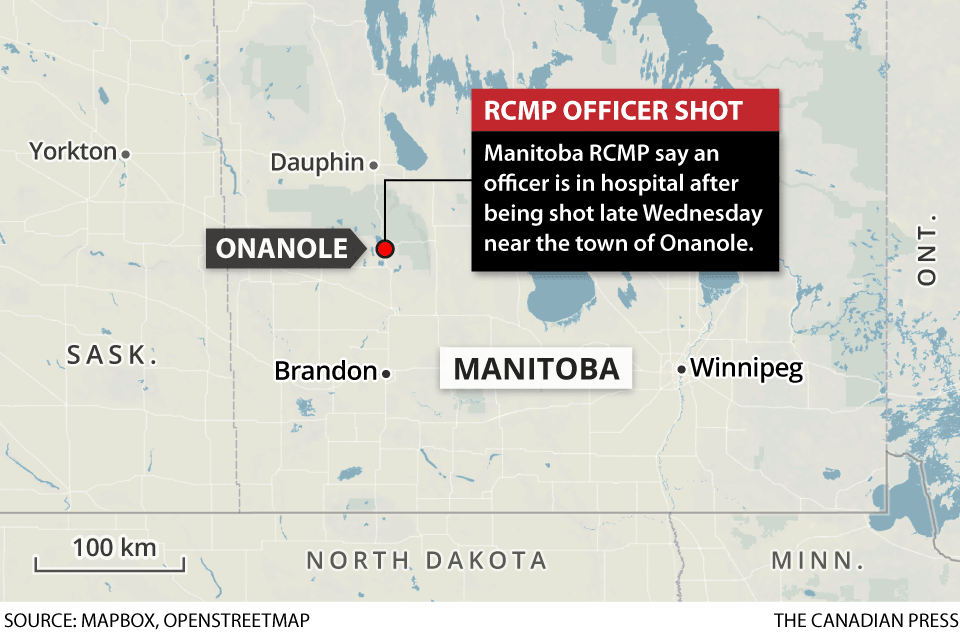 Lloyd Ewashko was up all night.
At about 10:30 p.m., the reeve of the RM of Harrison Park, where Onanole is located, learned of the shooting through social media; residents were sharing information via posts in community forums. Like many in the town, Ewashko was glued to his screen.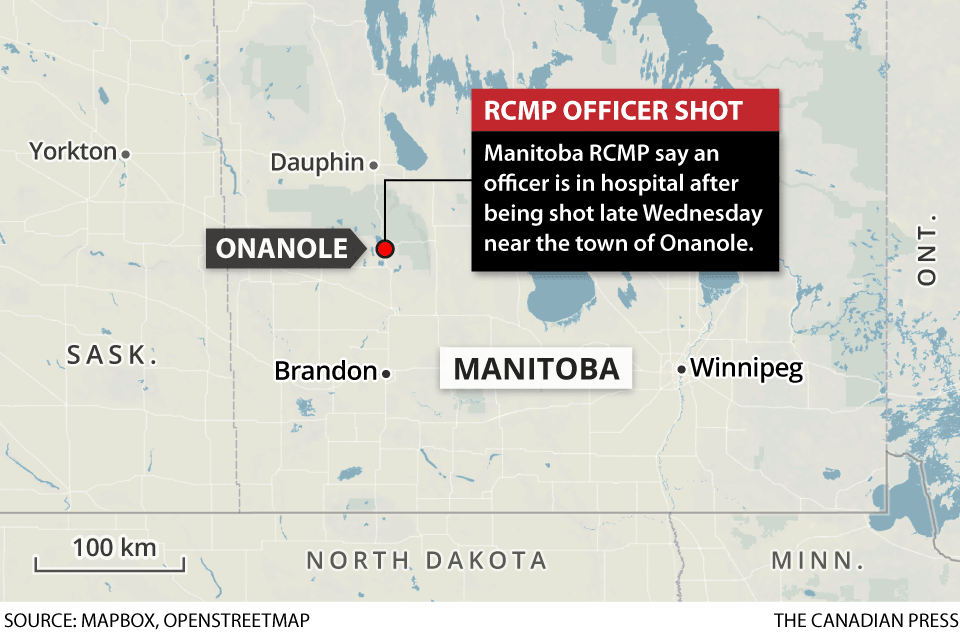 Lloyd Ewashko was up all night.
At about 10:30 p.m. on Wednesday, the reeve of the Rural Municipality of Harrison Park learned of the Onanole-area shooting of RCMP Cpl. Graeme Kingdon through social media; residents were sharing information via posts in community forums. Like many in the area, Ewashko was glued to his screen.
"The chatter throughout the night was phenomenal," he told the Free Press. "Everybody was looking out for each other, and making sure they were safe."
By Thursday evening, Ewashko could finally rest.
"Our citizens are safe again. The RCMP have done an excellent job getting their man," he said, expressing relief over the conclusion of a manhunt for a suspect at a home in nearby Neepawa.
The day's events will have a lasting effect on the sleepy Manitoba resort community, the reeve said.
"(Today) was very intense, it's something we're not — it's not something accustomed to or exposed to," he said. "I know our ways of thinking might change — probably a lot more caution will be taken in securing locks and vehicles and hugging their families and telling them they love them."
One of them will likely be Meghan Hutchings, who lives near Provincial Road 262, not far from the scene of Wednesday's shooting.
She said she saw a police car speed past her window shortly before 9:30 p.m. on Wednesday. Since then, she had been on high alert, saying her kids weren't leaving the house until the situation was resolved.
Hutchings said she's lived in Onanole for seven years, and it's been nothing other than peaceful. Break-and-enters have, however, recently become a concern in the west-central Manitoba community.
Riding Mountain MLA Greg Nesbitt, whose constituency includes Onanole, found out about the shooting Thursday morning.
"My initial response was shock that something like this would happen," Nesbitt said. "It's an anomaly. None of our communities expect things like this to happen."
In Onanole, located just south of Riding Mountain National Park, crime is generally limited to break-and-enters, Nesbitt said, but even that doesn't occur with greater frequency than any other community. "There's no violent crime to speak of here," he said.
Nesbitt said the people in his constituency often form connections with the RCMP officers who patrol their communities, so while this incident was shocking, it also likely touched many on a deeper, personal level.
"I'm sure I can speak on behalf of all citizens of (the constituency) offering my thoughts and prayers to the officer, wishing him a quick, full recovery," Nesbitt said.
Barry Skrudland, owner of Woods General Store in Onanole, said people in the small community were still expressing disbelief late in the morning, as a heavy police presence remained in the area.
Skrudland said he got a phone call from an employee at 6:30 a.m., telling him she couldn't ride her bike to work because her parents wouldn't allow her to. "I asked why, and then she told me (of the shooting)," he said.
Skrudland said regular customers were still coming in, but going into a long weekend, the resort community will undoubtedly feel the impact such headlines bring.
"You don't want to hit the news because of an incident like this," he said. "It's unfortunate, we have chuckleheads in the world with guns (who) go around shooting at innocent people. It's a sad situation, and it's not just happening here. It's happening everywhere."
"We shouldn't have to live in fear of getting hurt as this officer has," Ewashko agreed.
The reeve said Harrison Park is home to many hunting enthusiasts, and in rural Manitoba, the presence of guns is nothing new.
"But to have a crime that involves a gun is basically non-existent," he said. "I imagine there is a gun in many of our homes here, but not for those purposes."
— with files from Erik Pindera
ben.waldman@freepress.mb.ca
Kolody visited the wounded officer and his family at Health Sciences Centre in Winnipeg earlier in the day. Kingdon was airlifted to the city by STARS and is in stable condition with injuries that require ongoing medical treatment, he said.
"As you can imagine, they are deeply shaken by this incident," Kolody said. "He is a very committed, very professional and passionate officer. He was conscious this morning, but he has serious injuries."
Police flooded the area immediately after the shooting when Kingdon and his partner, who wasn't injured, called on their radio for help.
Two of the suspects were arrested together early Thursday morning and are being held at the Minnedosa RCMP detachment, while a third was found by himself and is currently in custody in Wasagaming. No other details about the locations of their arrest were available, other than they were all found in close proximity to the shooting scene.
Police arrested a fourth suspect after a dramatic, hours-long standoff at a home in a quiet neighbourhood surrounding an elementary school in Neepawa, a town southeast of Onanole.
RCMP set up an approximate two-block perimeter surrounding Hazel M. Kellington School at approximately 11:30 a.m., evacuating residents and school staff from the area.
Between seven and 10 administrative staff, teachers and custodians were evacuated, Jason Young of Beautiful Plains School Division said, adding no one was injured during the incident.
Residents near the school told the Brandon Sun a sniper was seen on the roof of the building across from the house police later stormed.
During the four hours that followed, dozens of officers — including the K9 unit and members of the RCMP emergency response team — closed in on a house on Mill Street, demanding multiple times through a megaphone for the suspect come out "with your hands up."
A man was arrested at approximately 3 p.m., after officers in tactical gear — some also in gas masks — forced him to the ground outside the home, before putting him in the back of a police cruiser. The man, his face dirty and bloodied, appeared to comply without resistance.
The tense series of events began routinely when RCMP got a call for a possible break-and-enter in progress just after 9:30 p.m. on Wednesday in Onanole, about 260 kilometres northwest of Winnipeg, at the southern entrance to Riding Mountain National Park.
"As soon as our officers exited the vehicle they were shot at," said Kolody.
RCMP weren't able to say how many shots were fired or whether any guns have been located.
"The suspects immediately fled that scene. There was no return fire from our officers. Our primary focus was to extricate the injured officer," McMurchy said.
Kingdon was taken to a nearby hospital, then airlifted to Winnipeg for emergency treatment and the focus then shifted to the ongoing ground search.
Targeting uniform 'worse than personal attack,' says RCMP officer shot in 2015
It's a day Mark Hume can't escape.
The Manitoba RCMP corporal was under fire in May 2015 while responding to a domestic disturbance in western Manitoba. He was the last police officer to be shot and wounded on the job prior to Wednesday night's attack in Onanole.
Hume was hit by shotgun pellets in the arm and leg after a man began shooting in Kemnay, a village 11 kilometres west of Brandon. Hume made a full recovery, while the suspect was arrested following a short standoff and charged with numerous offences, including attempted murder. Clayton Ewert was convicted last year following a trial and sentenced to more than 13 years in prison.
"It's not a day I'll soon forget," Hume said in his victim impact statement during Ewert's sentencing last May. "It could have easily been my last, in my career and in my life."
Hume told court he and his family were always comforted by the belief violence against police was less likely to happen in a quiet, rural community.
"Countless people asked me if I was angry with the man who tried to kill me. The answer was and still is no," he said. "I had a sense of relief that this was an act of violence directed not at me personally, but was directed at a police officer, the uniform I wear and what I represent.
"As time went on though, this original sense of relief changed into a feeling of frustration and disappointment. I now view this as not the random and isolated act of one individual, but yet another act of violence against the police and against authority. I think this is worse than a personal attack."
The last time a cop was slain in Manitoba occurred in December 2001, when RCMP Cpl. Dennis Strongquill was ambushed on the highway near Russell during a traffic stop. Three heavily-armed fugitives on the run from Alberta were responsible, and one of them, Danny Sand, was killed during a subsequent standoff outside a Saskatchewan motel.
Robert Sand and his girlfriend, Laurie Bell, were both arrested at the motel. Sand was ultimately convicted of first-degree murder and received a life sentence with no chance of parole for 25 years. Bell was found guilty by a jury of manslaughter, and sentenced to seven years in prison.
Court heard the trio, high on drugs and amped by a Prairie crime spree in which they'd stockpiled weapons, had a hatred for police and decided to open fire without warning when Strongquill and his partner pulled them over for a broken headlight on the highway.
Strongquill's tragic death sent shockwaves through the country and continues to resonate to this day among law enforcement.
mike.mcintyre@freepress.mb.ca
Kolody said this is a grim reminder to all police officers about the dangers they face.
"Every call our officers go to they have to remain vigilant and treat every one of those calls with due diligence," he said.
It's the first time a police officer in Manitoba has been shot and wounded on the job since 2015. The last deadly incident happened in 2001.
Premier Brian Pallister released a statement Thursday.
"This is a stark reminder of the danger that police officers face each and every day in their work to keep us all safe," he said. "On behalf of all Manitobans, I extend my thoughts and prayers to the officer and his family. I wish to thank his colleagues, first responders and health professionals for their incredible efforts."
mike.mcintyre@freepress.mb.ca
ben.waldman@freepress.mb.ca
Ben Waldman
Reporter
Ben Waldman covers a little bit of everything for the Free Press.
Mike McIntyre
Sports columnist
Mike McIntyre grew up wanting to be a professional wrestler. But when that dream fizzled, he put all his brawn into becoming a professional writer.
History
Updated on Thursday, August 30, 2018 6:55 AM CDT: Updates
Updated on Thursday, August 30, 2018 7:12 AM CDT: Replaces graphic
Updated on Thursday, August 30, 2018 7:56 AM CDT: Updates with arrests
Updated on Thursday, August 30, 2018 8:13 AM CDT: Updates with writethru
Updated on Thursday, August 30, 2018 8:54 AM CDT: Adds that fourth suspect is being sought
Updated on Thursday, August 30, 2018 9:48 AM CDT: Updates headline
Updated on Thursday, August 30, 2018 12:16 PM CDT: Adds new photo, tweet and video
Updated on Thursday, August 30, 2018 12:37 PM CDT: Updated.
Updated on Thursday, August 30, 2018 1:48 PM CDT: Updates with suspect in Neepawa.
Updated on Thursday, August 30, 2018 3:02 PM CDT: Name, photo added.
Updated on Thursday, August 30, 2018 3:13 PM CDT: Updates with forth suspect arrested
Updated on Thursday, August 30, 2018 3:57 PM CDT: Updates headline, first paragraph
Updated on Thursday, August 30, 2018 4:15 PM CDT: Typo fixed.
Updated on Thursday, August 30, 2018 4:46 PM CDT: Adds new photos
Updated on Thursday, August 30, 2018 5:55 PM CDT: Formats, final writethrough
The Free Press is certified by