Canada's exit from World Cup no reason to stop watching
Read this article for free:
To continue reading, please subscribe:
Monthly Digital Subscription
$4.75 per week*
Enjoy unlimited reading on winnipegfreepress.com
Read the E-Edition, our digital replica newspaper
Access News Break, our award-winning app
Play interactive puzzles
Continue
*Billed as $19.00 plus GST every four weeks. Cancel anytime.
Hey there, time traveller!
This article was published 24/06/2019 (1371 days ago), so information in it may no longer be current.
It wasn't supposed to end like this. So soon. So meekly. But on Monday in Paris, Canada's 2019 Women's World Cup was terminated after just four matches, a 1-0 loss to Sweden putting them out of the tournament at the Round of 16.
The game's only goal, as the highlight shows will display, came after an intelligent bit of Swedish build-up in which Kosovare Asllani waited until the charging Stina Blackstenius had run back onside before playing a perfectly-placed pass from the left to her Linkoping teammate. With Canadian defenders Kadeisha Buchanan and Shelina Zadorsky caught out of position — a rare moment in any encounter — Blackstenius then chipped the ball over goalkeeper Stephanie Labbe, who had rushed off her line.
A goal against was always going to put Canada in a difficult position, so laboured has been their attacking play at this World Cup, the last one and every one before that, but they were thrown a lifeline when the video assistant referee awarded them a penalty in the 68th minute. Janine Beckie took it, and Hedvig Lindahl dove to her right to save it. Canada produced just one other shot on target over the 90 minutes at Parc des Princes. They went out with a whimper.
Should Christine Sinclair, headed to the all-time goal-scoring record, have taken that fateful spot-kick? Perhaps, but given her seniority and role as captain she would have had she wanted. She didn't. Maybe she was tired; maybe Beckie's previous successes from 12 yards worked in the Manchester City forward's favour. In any event, it's not the talking point — even though it probably will be — that head coach Kenneth Heiner-Moller should face in the aftermath of the defeat, nor one that Canadian soccer fans should obsess over in the coming hours, days… who knows for how long.
The hard reality is that, despite their considerable collective ability, Canada had struggled to put the ball in the back of the net long before this World Cup. If they had an identity — and it's not apparent they did, or that they embraced the one they developed — it was as a cautious, counter-attacking team built around a solid defensive corps. And it's not defence that let them down in France, but rather a creative influence in the centre of the park. That, and a fool's hope that Sinclair could somehow summon her exploits of three, seven and 10 and more years ago.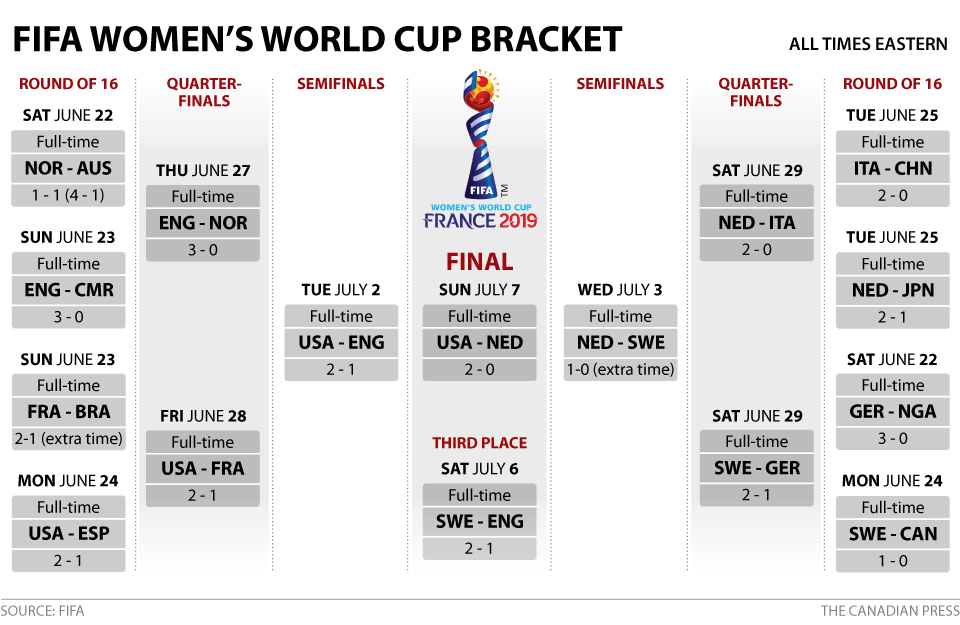 To the former matter, midfield tandem Sophie Schmidt and Desiree Scott provided a mostly reliable shield in front of the back four, even if they offered precious little by way of incisive, attack-mounting passes, and Jessie Fleming generally operated too high up the pitch to take on a playmaking role. The unfortunate, if inevitable, result was that all three players were less effective as a result of being used together, although they can hardly be blamed for it.
Heiner-Moller, who set up the formation and designed the tactics, might have made more use of Rebecca Quinn's range of passing. Indeed, he might have also used Jayde Riviere more often, or at least sooner than he tended to. On Monday, for example, both Quinn and Riviere were only introduced when Canada was already chasing the game. It was far too late.
As for Sinclair, it's hard to point the finger at Heiner-Moller for starting the 36-year-old in each match. Such is her legacy, her association with Canadian soccer and Canadian sports generally, that it seems almost treasonous, or at least unpatriotic, to suggest she might have been off the pace, that age had caught up with her, that she was even hampering Canada's build-up play, in the rare moments there was any. But the coach is paid to make brave decisions, and other than starting Jordyn Huitema against the Netherlands he didn't make them at this World Cup.
That said, Heiner-Moller shouldn't be blamed for Canada's early exit, either. He fostered a fun, confident approach among his players — one that saw them touch down in Europe with a swagger. That's a good thing. But with high expectations comes the risk of big disappointment, which is what this country is experiencing now.
Were Canada's aspirations, to reach at least a semifinal, overly optimistic? Probably. There is a top tier in women's soccer, consisting of the United States, France, England, Germany and the Netherlands, in which Canada simply isn't a part. For now, anyway. But in Beckie, Fleming, Buchanan, Quinn, Riviere and Huitema there exist the sort of young building blocks that can one day deliver something special. Perhaps next summer at the Olympic Games. This team will, or at least should, look rather different by then.
At the moment, however, this hurts. It really hurts. It's not fun when a tournament moves on without you. Marta, though, would have us all stick with this World Cup until the very end, even if, back here at home, it doesn't include this country's national team.
She was primarily addressing young female athletes in her emotional post-match interview after her Brazil side lost to France on Sunday. Still, her message rings true for everyone: "We are trying to represent women and show how women can play any type of role… Let me be clear, this is not only in sport. This is a struggle for equality across the board." And, she implored, in remarks that have gone viral, "Women's football depends on you to survive. Think about it. Value it more."
Canada may be out of the World Cup, but those are values — in addition to the excellent soccer on offer — that are worth cheering for. This event is only half over. Fans in this country and all around the world should stick with it the rest of the way.
jerradpeters@gmail.com
Twitter @JerradPeters
The Free Press is certified by