Mounties scale down northern Manitoba manhunt
Read this article for free:
To continue reading, please subscribe:
Monthly Digital Subscription
$4.75 per week*
Enjoy unlimited reading on winnipegfreepress.com
Read the E-Edition, our digital replica newspaper
Access News Break, our award-winning app
Play interactive puzzles
Continue
*Billed as $19.00 plus GST every four weeks. Cancel anytime.
Hey there, time traveller!
This article was published 31/07/2019 (1401 days ago), so information in it may no longer be current.
As Manitoba RCMP scale back the search for two murder suspects in one of the province's northernmost regions, the Mounties are "keeping all possibilities in mind" — including the chance fugitives Kam McLeod and Bryer Schmegelsky are already dead.
"Everything is possible at this stage. The north part of the province is a very unforgiving place," RCMP assistant commissioner Jane MacLatchy said at a Winnipeg news conference Wednesday afternoon. "Very challenging terrain, lots of wildlife.
"We're keeping all possibilities in mind as we go forward with this."
The Manitoba RCMP commanding officer announced the force is narrowing the scope of its search efforts in the Gillam area, and will be withdrawing most of its personnel and search assets from the region over the next week.
"To be clear, we are not ending this search," she said. "While the search in northern Manitoba is being scaled down, it is not over — not by any means."
On Wednesday, the Royal Canadian Air Force confirmed the aircraft and crews it had deployed to help with the search would also be pulling back and returning to respective bases. The military said it will remain on standby for search-and-rescue operations related to the manhunt.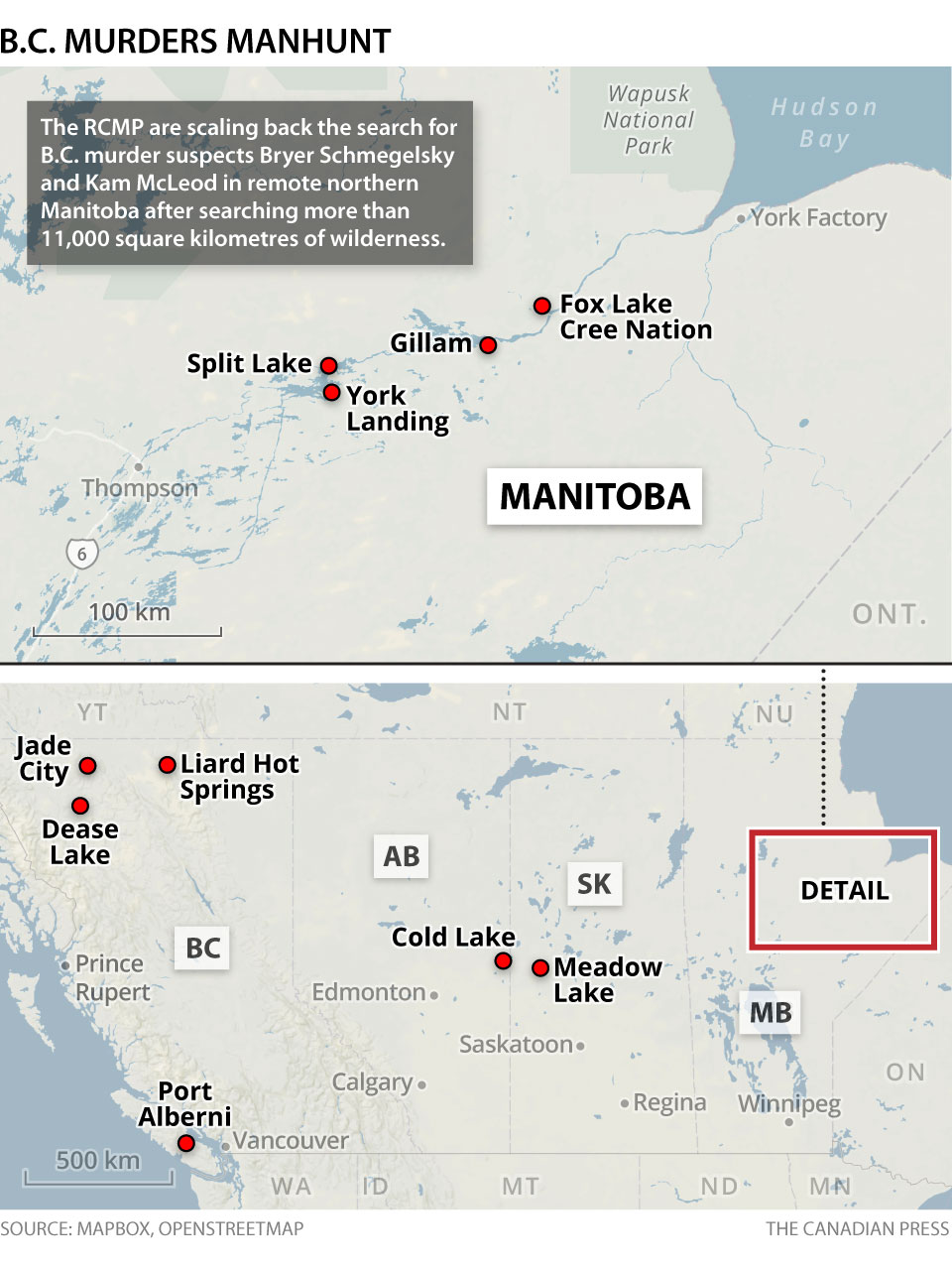 McLeod, 19, and Schmegelsky, 18, are charged with second-degree murder in the northern B.C. death of Leonard Dyck, a lecturer at the University of British Columbia. Dyck's body was found July 19.
The two Port Alberni, B.C., teens are also suspects in the shooting deaths of Lucas Fowler and Chynna Deese, a young couple who was vacationing in northern B.C. Their bodies were found July 15.
MacLatchy said some tactical resources and specialized assets will remain in the northern community of Gillam, some 1,000 kilometres northeast of Winnipeg, but would not give specific numbers or details.
"I know that today's news is not what the families of the victims and the communities of northern Manitoba wanted to hear. But when searching for people in vast, remote and rugged locations, it's always a possibility that they're not going to be immediately located," she said.
MacLatchy said there is also still a possibility the suspects had some sort of assistance and have left the area.
The search for the two men was spread out over 11,000 square kilometres, and included officers canvassing more than 500 homes and empty buildings in the Gillam area, MacLatchy said. Over the last week, RCMP received and followed up on more than 250 tips, she said.
MacLatchy said officers conducted "exhaustive" searches of area rail lines, hydro corridors, lakes, rivers, dense forests and vast areas of tundra and muskeg. RCMP searched on foot and with dogs, all-terrain vehicles, drones, helicopters and planes.
"Over the last week, we have done everything we can to locate the suspects," she said. "We used some of the most advanced technologies available and received assistance from some of the most highly skilled search-and-rescue personnel in the country."
Despite the effort and resources, MacLatchy said there have been no confirmed sightings of the suspects since their burned-out Toyota RAV4 was found in a ditch near Fox Lake Cree Nation on July 22.
"It has come time to reassess our deployment of resources to the area," she said.
Meanwhile, provincial police in Ontario said they were investigating after someone reported seeing two men who looked similar to McLeod and Schmegelsky in the northeastern community of Kapuskasing.
OPP Const. Michelle Coulombe said a suspicious vehicle was reported driving through a construction zone Wednesday morning. Officers hadn't been able to track it down as of Wednesday afternoon.
MacLatchy reminded people to stay alert and report any possible sightings or tips to RCMP.
"Something that may seem insignificant you may be extremely valuable to our investigation," she said.
— with files from The Canadian Press
caitlyn.gowriluk@freepress.mb.ca
The Free Press is certified by