Gillam-area residents relieved after RCMP discover bodies
Read this article for free:
To continue reading, please subscribe:
Monthly Digital Subscription
$4.75 per week*
Enjoy unlimited reading on winnipegfreepress.com
Read the E-Edition, our digital replica newspaper
Access News Break, our award-winning app
Play interactive puzzles
Continue
*Billed as $19.00 plus GST every four weeks. Cancel anytime.
Hey there, time traveller!
This article was published 07/08/2019 (1326 days ago), so information in it may no longer be current.
GILLAM — After almost three frightening weeks of an intense nationwide manhunt for two murder suspects that garnered international headlines, residents of this remote northern Manitoba community were able to exhale again Wednesday afternoon.
Manitoba RCMP announced the discovery Wednesday morning of two bodies just outside of town they believe are Kam McLeod and Bryer Schmegelsky, who had been on the run after three slayings in northern B.C.
Schmegelsky and McLeod were charged with murder in the July 19 death of University of British Columbia lecturer Leonard Dyck and were suspected in the July 15 shooting deaths of Australian tourist Lucas Fowler and his American companion Chynna Deese.
RCMP found the bodies about eight kilometres away from the spot where a burned-out Toyota RAV4 owned by one of the victims was located July 22 in a ditch on Provincial Road 290, the last confirmed location of the fugitives.
"Pure relief," Gillam Mayor Dwayne Forman told the Free Press, adding he got chills when he heard the news. "I am very relieved that this is all over.
"All I want is for our community to get back to a sense of normalcy, this has been overwhelming…. Non-stop media, non-stop RCMP… it's just been very hectic and this is not our normal, small, quiet town. I think we just need to get back to being us."
At a news conference in Winnipeg Wednesday afternoon, RCMP assistant commissioner Jane MacLatchy said she is "confident" the bodies are those of the two suspects; autopsies are scheduled to determine cause of death.
MacLatchy declined to speculate on how the two 19-year-old men managed to evade capture as long as they did, or how long they might have been dead. "Very dense" wilderness may have kept them hidden, she said.
Timeline of events
July 15 — The bodies of a man and a woman are found near a blue van on the Alaska Highway, also known as Highway 97, near Liard Hot Springs, B.C.
July 17 — RCMP say the deaths are suspicious.
July 15 — The bodies of a man and a woman are found near a blue van on the Alaska Highway, also known as Highway 97, near Liard Hot Springs, B.C.
July 17 — RCMP say the deaths are suspicious.
July 18 — RCMP announce Australian Lucas Fowler, 23, and his 24-year-old American girlfriend, Chynna Deese, are homicide victims. Meanwhile, in Jade City, B.C., Kam McLeod, 19, and Bryer Schmegelsky, 18, are spotted in a store where they stopped for free coffee. Jade City is about 350 kilometres from where the two bodies were found.
July 19 — Police announce the body of a man has been found two kilometres from a burned-out truck belonging to McLeod and Schmegelsky near Dease Lake, B.C. The two teens are missing. Dease Lake is about 470 kilometres from the first crime scene.
July 21 — McLeod and Schmegelsky are spotted in Cold Lake, Alta., where a local resident, not knowing who they are, helps them free a stuck Toyota Rav 4 they are driving. The are also captured on security camera footage at a store in Meadow Lake, Sask.
July 22 — Mounties say Fowler and Deese were shot. They release composite sketches of a man seen speaking with the couple on the highway where they were found dead and a sketch of the unidentified man found dead near the burned truck. Fowler's father, an Australian police inspector, pleads for public help in the investigation.
At the same time, band constables with Tataskweyak Cree Nation at Split Lake in northern Manitoba talk with McLeod and Schmegelsky at a checkstop, unaware of who they are. The constables see camping gear and maps in their vehicle.
July 23 — RCMP announce Schmegelsky and McLeod are suspects in the three deaths. They release photos of the men and a 2011 grey Toyota Rav 4 they may have been driving. Fox Lake Cree Nation says a burned-out vehicle is found near Gillam, Man., about 170 kilometres east of Split Lake. Police search that area.
July 24 — RCMP confirm the burned-out vehicle near Gillam is the Toyota Rav 4 the suspects are believed to have been driving. The third victim is identified as 64-year-old Leonard Dyck of Vancouver. He was a lecturer in the University of British Columbia's botany department.
July 25 — Manitoba Mounties confirm two sightings of Schmegelsky and McLeod in the Gillam area. RCMP say the sightings, along with no reports of stolen vehicles, lead investigators to believe the suspects are still in the region. They say they are investigating a photograph of Nazi paraphernalia allegedly sent by Schmegelsky to another user on a video game network. Schmegelsky is also pictured in military fatigues brandishing an airsoft rifle and wearing a gas mask.
July 28 — RCMP descend on York Landing, an isolated community southwest of Gillam, after it's reported the suspects were seen at the local dump.
July 29 — RCMP are unable to confirm the sighting and pull back to Gillam.
July 31 — Police announce they have done everything they can and are scaling back the search, although not ending it.
Aug. 2 — RCMP say they found a damaged rowboat on the Nelson River.
Aug. 4 — RCMP dive team conducts underwater search "of significant areas of interest."
Aug. 6 — RCMP say they have found several items linked to Schmegelsky and McLeod on the shore of the Nelson River in northern Manitoba. The Mounties would not disclose what the items are but say they were found nine kilometres from the vehicle they were driving.
Aug. 7 — Police say they believe they have found the bodies of McLeod and Schmegelsky in dense brush in northern Manitoba. RCMP Assistant Commissioner Jane MacLatchy said the bodies were found earlier in the morning near the shoreline of the Nelson River, within a kilometre of where several items linked to the two suspects were found. Autopsies are scheduled to confirm their identities.
RCMP announced early last week that the massive search effort — which had included personnel and equipment from the Canadian Forces — was being scaled back in the absence of fresh evidence. But last Friday they reported the discovery of a "critical piece of evidence" along the shore of the Nelson River.
Police haven't provided any details on that evidence, but the bodies were discovered about a kilometre from where the items were found. MacLatchy told reporters the evidence allowed officers to immediately narrow the search and send specialized RCMP resources into very dense brush.
"I feel like everyone in town had that weight taken off their shoulders," said Gillam resident Dakota Massan, who was working in the Fox Lake Gaming Centre when the news broke. "Holding their chests, all let go at the same time."
Over at the Kettle River Inn and Suites, Margaret Finucan reacted with an overwhelming feeling of sadness; there won't be answers, or justice, and that two young men are dead, despite the allegations. She's grieving for all the parents.
About the victims
Here is a look at the three people — Chynna Deese, Lucas Fowler, and Leonard Dyck –whose deaths were linked to the two fugitives.
Here is a look at the three people whose deaths were linked to the two fugitives.
CHYNNA DEESE
The 24-year-old from Charlotte, N.C., was travelling in Canada with her Australian boyfriend, Lucas Fowler, when she died.
An online obituary about her says she is survived by her mother, father and seven siblings.
"Chynna was a loving free spirit who travelled the world; she had a genuine passion for the well-being of all people," her obituary reads.
"She always had a positive outlook on life and she unfailingly brought joy to all that came in contact with her."
A private celebration of her life was July 27 in North Carolina.
LUCAS FOWLER
The father of the 23-year-old from Sydney, Australia, has said his son was having the time of his life and the family was overjoyed when he met Deese.
Chief Insp. Stephen Fowler of the New South Wales Police Force told media last month that their deaths marked a tragic end to a love story.
His father said his son had saved up his money after working in Sydney so he could travel to B.C. and join Deese there.
"Our son Lucas was having the time of his life travelling the world," Stephen Fowler said.
"He met a beautiful young lady and they teamed up, were a great pair and they fell in love."
LEONARD DYCK
The 64-year-old University of British Columbia lecturer, affectionately known as Len, has been described as someone who loved his work.
Patrick Martone, a professor in UBC's botany department, said last month that Dyck's gruff exterior belied a natural curiosity and enthusiasm.
"His passion for learning about bizarre and beautiful organisms that few people ever get to see inspired our students to feel that same passion and awe," Martone said.
Dyck began working for the university as a sessional lecturer in 2003 and completed his PhD the next year.
His behind-the-scenes efforts in the department, his field collections and his work with students in the classroom make him irreplaceable, Matrone said.
"He held his cards close to his chest, but as soon as you realized how much passion he had for his work, he was so much fun and a joy to be around."
-The Canadian Press
"I wish they would have… walked out, to face it," Finucan said. "This isn't the way it should have ended."
And she's happy RCMP didn't give up.
"They were very thorough, I feel," she said. "Going through the dense bush and bogs, they never gave up, they kept on looking."
Northern communities have been on edge throughout the three-week manhunt, and MacLatchy acknowledged that Wednesday.
"Your lives have been disrupted. Many of you lived with uncertainty and fear, but throughout you were resilient. You came together as communities and you helped our officers get the job done," she said.
In Gillam, counselling remains available both through Manitoba Hydro — their employee assistance program is available to all residents — and the Northern Region Health Authority to help people grapple with what happened and get back to normal, said Forman.
"We have to count on family right now," Forman said at a town hall meeting Wednesday night, in response to a question about how to get people to access the help they need. "We can't heal as a community if we don't do it together."
Residents are still waiting for more details, such as when the deaths happened.
Fox Lake will hold a ceremony in the area where the vehicle and remains were found on Thursday, said Abraham Beardy, resource manager for the First Nation.
Sgt. Ian McKenzie told residents that the forensic team remains on site and the remains are likely to be flown to Winnipeg Wednesday night or Thursday morning. The additional RCMP resources will leave town Friday or Saturday, he said.
Fox Lake First Nation Chief Walter Spence expressed relief and gratitude to the RCMP.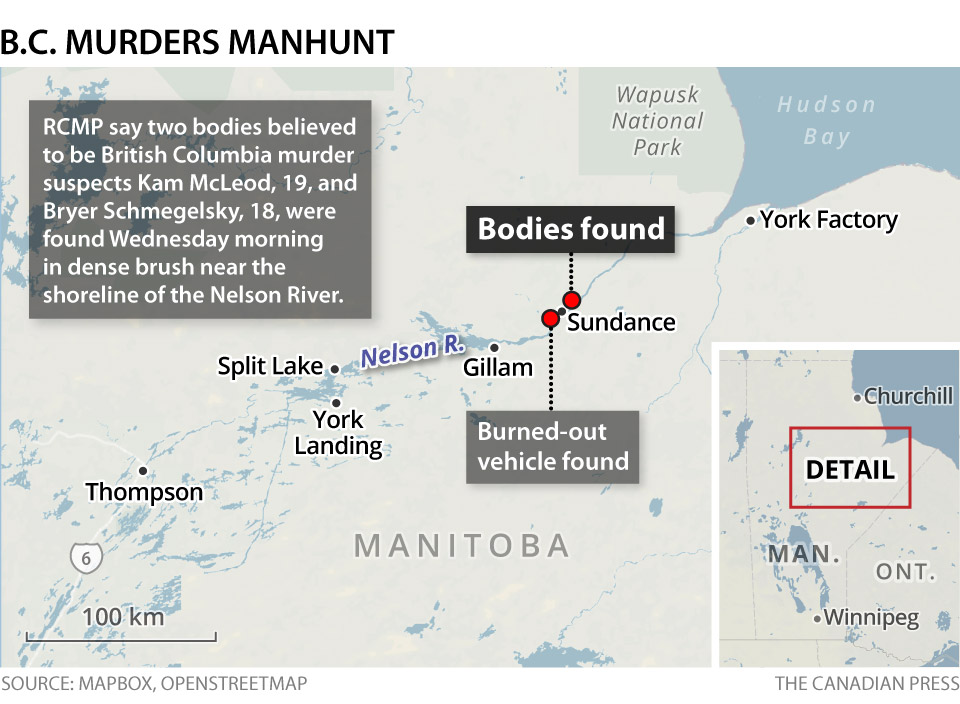 "I am working to ensure that our community members will have the supports they need as they try to return to a sense of normalcy," Spence wrote in an emailed statement.
"We will be holding community gatherings in order to discuss the post-traumatic effects that these events may have, and how we can use our strength to continue to help and support each other in the coming weeks."
More from Margaret Finucan ash she watched the news live at the Kettle River Inn and Suites in #Gillam. pic.twitter.com/biVPHxM4RD

— Tessa Vanderhart (@tessavanderhart) August 7, 2019
MacLatchy said the RCMP used "every available resource," including help from the military, private partners and from RCMP across the country. She thanked the officers who were involved in the search, as well as Canadians for their public support.
"We knew that we needed just to find that one piece of evidence that could move this search forward."
tessa.vanderhart@freepress.mb.ca
katie.may@freepress.mb.ca
Katie May
Reporter
Katie May is a general-assignment reporter for the Free Press.
History
Updated on Wednesday, August 7, 2019 2:51 PM CDT: Adds map
Updated on Wednesday, August 7, 2019 3:11 PM CDT: Adds video.
Updated on Wednesday, August 7, 2019 3:39 PM CDT: Updated
Updated on Wednesday, August 7, 2019 6:24 PM CDT: writethrough
Updated on Wednesday, August 7, 2019 6:57 PM CDT: Adds details on Gillam town meeting
Updated on Wednesday, August 7, 2019 7:47 PM CDT: Fixes format coding.
Updated on Wednesday, August 7, 2019 9:48 PM CDT: Adds photo.
Updated on Wednesday, August 7, 2019 9:54 PM CDT: Updates photo
Updated on Thursday, August 8, 2019 7:40 AM CDT: Updated.
The Free Press is certified by