Inflamed rhetoric won't end blockades
Read this article for free:
To continue reading, please subscribe with this special offer:
All-Access Digital Subscription
$1.50 for 150 days*
Enjoy unlimited reading on winnipegfreepress.com
Read the E-Edition, our digital replica newspaper
Access News Break, our award-winning app
Play interactive puzzles
Continue
*Pay $1.50 for the first 22 weeks of your subscription. After 22 weeks, price increases to the regular rate of $19.00 per month. GST will be added to each payment. Subscription can be cancelled after the first 22 weeks.
Hey there, time traveller!
This article was published 19/02/2020 (1023 days ago), so information in it may no longer be current.
'The rule of law."
This four-word invocation — direct, concise and seemingly simple in its meaning and intent — has become something of a mantra for politicians and pundits pushing for a swift, decisive and confrontational end to the protest blockades that started on the Wet'suwet'en Nation in British Columbia and have since expanded across the country in a series of sympathetic actions that have effectively halted rail transport of people and goods.
The original blockades were erected because the Wet'suwet'en hereditary chiefs oppose the construction of the Coastal GasLink pipeline through their territory. The $6.6-billion project would transport natural gas along a 670-kilometre route from Dawson Creek in northeastern B.C. to a coastal export facility in Kitimat.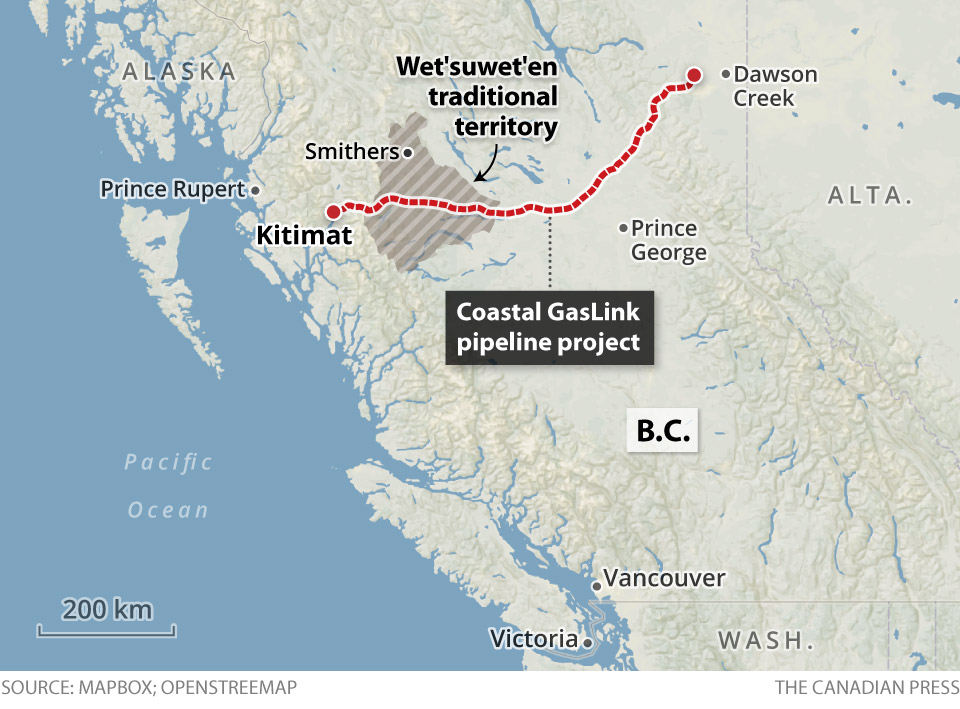 Parent company TransCanada Energy has signed benefit agreements (promising jobs and money) with 20 elected First Nation band councils whose reserves the pipeline would cross. It has not, however, received approval from hereditary chiefs, whose leadership and title to 22,000 square kilometres are recognized in the 1997 Delgamuukw Supreme Court decision, and who assert that the elected band councils are the creation of the Canadian government that imposed them on Indigenous peoples.
Unlike most of Canada, the majority of B.C. lands were never ceded under treaty agreements; court rulings have recognized that Indigenous rights and title cannot be ignored by Canadian or provincial governments.
After RCMP moved in on Feb. 6 to enforce an injunction issued by the B.C. Supreme Court, protesters in other parts of Canada — most notably in southern Ontario, where rail service is fundamental to commercial and commuter transportation — established blockades in support of the Wet'suwet'en activists and also to highlight other grievances.
The economy has been strained, with billions of dollars in cargo prevented from reaching destinations. Livelihoods have been affected as layoff notices have been issued across numerous sectors. Travellers have been inconvenienced by the loss of railway services. Tempers have, it goes without saying, frayed.
Solutions are needed — quickly.
And so come the demands: "Restore the rule of law." "Protect the rule of law." "The rule of law must be enforced."
In many cases, the inducement is a shorthand for "Saddle up the Mounties, knock down the barricades and round up the protesters," without much thought given to the larger issues at play.
In the narrowest of terms, invoking "the rule of law" means enforcing the B.C. Supreme Court injunction, which gives Coastal GasLink the right to continue work on a workers' camp and, eventually, construct the pipeline. It also means removing the Ontario blockades that have stymied traffic on Canada's busiest rail corridor.
In the broader sense, however — perhaps the context being considered by Prime Minister Justin Trudeau on Tuesday when he said patience, rather than force, is required — the rule of law must also consider the wide range of historical, traditional and jurisdictional contexts in which Indigenous law and Canadian law are tightly, but without clear legal definition, intertwined.
It is not, as Opposition leader Andrew Scheer provocatively suggested this week, a simple matter of applying "the rule of law" to "a bunch of radical activists who won't rest till our oil and gas industry is entirely shut down."
Immediate discussions must be undertaken between Canada's government and Wet'suwet'en leadership, with each side clearly delineating what is required to defuse this crisis and set the wheels of transport and commerce back in motion. That is the urgent task at hand, and demands for strong-armed "rule of law" intervention that will further inflame the situation will not help to get it done.
The Free Press is certified by